Lockheed XB-30
From PlaneSpottingWorld, for aviation fans everywhere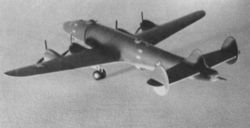 The Lockheed XB-30 was the design submitted by Lockheed after the request by the United States Army Air Forces for a very heavy bomber, the same request that led to the B-29 Superfortress and B-32 Dominator.
Around 1938, General Henry H. 'Hap' Arnold, the head of the Army Air Force, was growing alarmed at the possibility of war in Europe and in the Pacific. Hoping to be prepared for the long-term requirements of the Air Force, Arnold created a special committee chaired by Brigadier General W. G. Kilner; one of its members was Charles Lindbergh. After a tour of Luftwaffe bases, Lindbergh became convinced that Nazi Germany was far ahead of other European nations. In a report in 1939, the committee made a number of recommendations, including development of new long-range heavy bombers. When war broke out in Europe, Arnold requested design studies from several companies on a Very Long-Range bomber capable of traveling 5000 miles (8000 km). Approval was granted on December 2.
It never progressed past the design stage, mainly because Boeing had a huge head start with its B-29 Superfortress. Only a scale model was built. However, it was the foundation of the Lockheed Constellation and its military version, the C-69 Constellation.
Specifications (as designed)
General characteristics
Crew: 12
Length: 104 ft 8 in (31.91 m)
Wingspan: 123 ft 0 in (37.50 m)
Height: 23 ft 9 in (7.25 m)
Wing area: 1,646 ft² (153 m²)
Empty weight: 51,616 lb (23,462 kg)
Loaded weight: 85,844 lb (39,020 kg)
Max takeoff weight: 93,808 lb (42,640 kg)
Powerplant: 4× Wright R-3350-13 , 2,200 hp (1,600 kW) each
Performance
Armament
Guns:

8× .50 in (12.7 mm) machine guns in four fuselage turrets
2× .50 in (12.7 mm) machine guns and
Bombs: 3,300 lb
References and links
Related content
Related development

Comparable aircraft

Designation sequence

Related lists