Waco CG-4 Haig
From PlaneSpottingWorld, for aviation fans everywhere
The Waco CG-4 Haig (named Hadrian in Royal Air Force service) was the most widely used United States troop/cargo military glider of World War II. Designed by Weaver Aircraft Company of Ohio (commonly known by the acronym WACO, or Waco), CG-4 flight testing began in May of 1942 and eventually more than 13,900 CG-4As were delivered. Sixteen companies were prime contractors for manufacturing CG-4A's. Wicks Aircraft Company of Kansas City, Missouri was a sub-contractor while Commonwealth Aircraft Corporation of Kansas City, Kansas and the WACO Company of Troy, Ohio were two of the 16 prime contractors.
Design and development
The CG-4 was constructed of fabric-covered wood and metal and was crewed by a pilot and copilot. It could carry 13 troops and their equipment, or a quarter ton truck (Jeep), or a 75 mm howitzer, or a 1/4 ton trailer, loaded through the upward-hinged nose section. Also, a small bulldozer was loaded into some of these gliders. C-47s were usually used as tow aircraft. A few C-46 tugs were used for the Wesel mission.
The USAAF CG-4A tow line was 11/16" diameter nylon, 350' (107 m) long. The CG-4A pickup line was 15\16"- (24 mm)-diameter nylon, but only 225' (69 m) long including the doubled loop.
Operational history
Whiteman Air Force Base was originally activated on 6 August, 1942, as Sedalia Glider Base. In November 1942, the installation became Sedalia Army Air Field and was assigned to the 12th Troop Carrier Command of the United States Army Air Forces. The field served as a training site for glider pilots and paratroopers. Assigned aircraft included the CG-4A glider, and the Curtiss C-46s and Douglas C-47s. However, the C-46 was not used as a glider tug in combat until the Wesel mission.
CG-4As went into operation in July 1943 during the Allied invasion of Sicily. They participated in the American airborne landings in Normandy on 6 June, 1944, and in other important airborne operations in Europe and in the China-Burma-India Theater. Although not the intention of the AAF, gliders were generally considered expendable by high ranking European theater officers and combat personnel and were abandoned or destroyed after landing. While equipment and methods for extracting flyable gliders was developed and was delivered to Europe, half of that equipment was rendered unavailable by certain higher ranked officers. Despite this lack of support for the recovery system several gliders were recovered from Normandy and even more from Holland and Wesel.
The CG-4A found favor where its small size was a benefit; the larger Airspeed Horsa could carry more troops (seating for 28 or a jeep or an anti-tank gun) and the General Aircraft Hamilcar could carry a light tank but the CG-4A could land in smaller spaces. It was used to send supplies to partisans in Yugoslavia.
Variants
XCG-4

Prototypes, two built, plus one stress test article.

CG-4A

Main Production variant, survivors became G-4A in 1948, 13,903 built by 16 various contractors.

XCG-4B

One CG-4A built with a plywood structure.

XPG-1

One CG-4A converted with two Franklin 6AC-298-N3 engines by Northwestern.

XPG-2

One CG-4A converted with two 175hp L-440-1 engines by Ridgefield.

XPG-2A

Two articles: XPG-2 engines changed to 200hp. plus one CG-4A converted also with 200hp engines..

PG-2A

production PG-2A with two 200hp L-440-7s, redesignated G-2A in 1948, ten built by Northwestern.

XPG-2B

Cancelled variant with two R-775-9 engines.

LRW-1

13 CG-4A transferred to the United States Navy.

G-2A

PG-2A re-designated in 1948.

G-4A

CG-4A re-designated in 1948.

G-4C

G-4A with different tow-bar, 35 conversions.

Hadrian Mk I

Royal Air Force designation for the CG-4A, 25 delivered.

Hadrian Mk II

Royal Air Force designation for the CG-4A with equipment changes.
Operators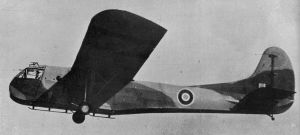 Specifications (CG-4A)
General characteristics
Performance
References
External links
See also
Related development

Comparable aircraft

Designation sequence

Related lists

Template:USAAF glider aircraft Template:USAF glider aircraft
cs:Waco CG-4 de:Waco CG-4A es:CG-Hadrian pl:Waco CG-4