Waco CG-4
From PlaneSpottingWorld, for aviation fans everywhere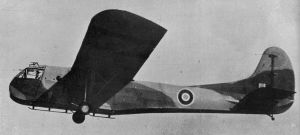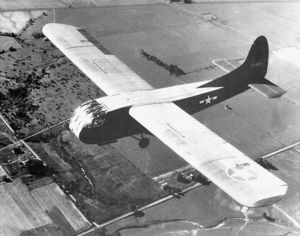 The CG-4A Waco (named CG-4 Hadrian in Royal Air Force use) was the most widely used United States troop/cargo military glider of World War II. Flight testing began in 1942 and eventually more than 12,000 CG-4As were procured. Fifteen companies manufactured CG-4s, including the Wicks Aircraft Company of Kansas City, Missouri, with 1,074 built by the Waco Aircraft Company of Troy, Ohio.
The CG-4A was constructed of fabric-covered wood and metal and was crewed by a pilot and copilot. It could carry 13 troops and their equipment or either a jeep, a quarter-ton truck, or a 75mm howitzer loaded through the upward-hinged nose section. C-46s and C-47s were usually used as tow aircraft.
Combat History
Whiteman Air Force Base was originally activated on August 6, 1942, as Sedalia Glider Base. In November 1942, the installation became Sedalia Army Air Field and was assigned to the 12th Troop Carrier Command of the United States Army Air Forces. The field served as a training site for glider tactics and paratroopers, and assigned aircraft included the CG-4A glider, and the Curtiss C-46 Commando and Douglas C-47 Skytrain. CG-4As went into operation in July 1943 during the Allied invasion of Sicily. They participated in the D-Day assault on France on June 6, 1944, and in other important airborne operations in Europe and in the China-Burma-India Theater. Until late in the war, gliders were generally considered expendable in combat and were abandoned or destroyed after landing.
The CG-4A found favor where its small size was a benefit, the Allies had the larger Airspeed Horsa where more troops could be carried and the vechicle carrying Hamilcar but the CG could land in smaller spaces. It was used to send supplies to partisans in Yugoslavia.
Specifications (CG-4A)
General characteristics
Crew: two pilots
Capacity: 13 troops, or 1/4 ton truck and 3 troops, or 6 litters for evacuation of wounded
Length: 48 ft 8 in (14.8 m)
Wingspan: 83 ft 8 in (25.5 m)
Height: 15 ft 4 in (4.7 m)
Wing area: 900 ft² (83.6 m²)
Aspect ratio: ~8:1
Weight

Empty: 3790 lb
Loaded: maximum design gross weight (normal load): 7,500 lb (3,400 kg);
 maximum emergency gross weight (not to be exceeded): 9,000 lb (4,091 kg)

Maximum takeoff: (normal load): 7,500 lb (3,400 kg) (emergency load): 9,000 lb (4,091 kg)
Performance
Maximum speed: CAS 150 mph (240 km/h) @ 7500 lb (IAS about 158 mph); CAS 128 mph @ 9000 lb (IAS about 136 mph)
Stall speed (with design load 7500 lb): CAS 49 mph, IAS about 60 mph
Tactical glide speed (landing speed)(with design load): CAS 60 mph, IAS about 70 mph
Normal glide speed (with design load): CAS 72.6 mph, IAS about 85 mph
Maximum glide ratio:
Rate of sink: about 400 ft/min @ tactical glide speed (CAS 60 mph) ( m/min)
Wing loading: 8.81 lb/ft² ( kg/m²)
Landing run (for normal three-point landing): 600-800 feet
Operators
External links
Related content
Related development: Waco CG-15
Comparable aircraft: Airspeed Horsa - Slingsby Hengist - General Aircraft Hamilcar - General Aircraft Hotspur - DFS 230 - Gotha Go 242
Designation sequence: CG-1 - CG-2 - CG-3 - CG-4 - CG-5 - CG-6 - CG-7
de:Waco CG-4A es:CG-Hadrian pl:Waco CG-4