Sukhoi-Gulfstream S-21
From PlaneSpottingWorld, for aviation fans everywhere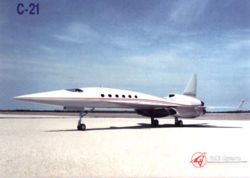 Sukhoi-Gulfstream S-21 was an experimental Russian-American supersonic business jet
In the early 1990s, Gulfstream Aerospace and The Sukhoi Design Bureau of Moscow began a joint effort to develop a supersonic small business jet, code named the S-21. Due to questionable market demand for commercial supersonic air travel, commitment to the project wavered and delays mounted.
Gulfstream eventually dissolved the partnership, although Sukhoi continued work on the S-21.
The S-21 would be capable of sustained cruise at Mach 2+ and much R&D has gone into the management of the troublesome sonic shockwave associated with Mach 1+ air speeds.
Specifications (S-21)
General characteristics
Crew: 2
Capacity: 6-10
Length: 124.2 ft (37.86 m)
Wingspan: 65.4 ft (19.93 m)
Wingsweep: 32° unswept (68° swept)
Height: 27.1 ft (8.26 m)
Empty weight: 54,167 lb (24,570 kg)
Useful load: 2,000 lb (907 kg)
Max takeoff weight: 114,200 lb (51,800 kg)
Fuel: 58,465 lb (26,519 kg)
Powerplant: 3× Aviadvigatel D-21A1 turbofan, 16,535 lbf (73.55 kN) each
Performance
Maximum speed: 1,483 mph (2,386 km/h)
Cruise speed: 1,483 mph (2,386 km/h)
Range: 4,600 mi (7,403 km)
Range (1.4 Mach): 2,715 mi (4,369 km)
Range (0.95 mach): 4,600 mi (7,403 km)
Service ceiling: 63,900 ft (19,477 m)
Thrust/weight: 0.43
Related content
Comparable aircraft

Related lists

See also