Fairchild PT-19
From PlaneSpottingWorld, for aviation fans everywhere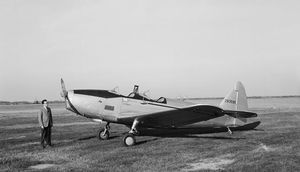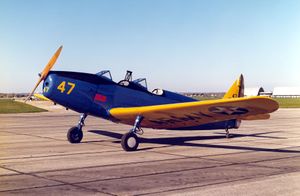 The Fairchild PT-19 was a monoplane primary trainer aircraft that served with the USAAC, RAF and RCAF during World War II. It was a contemporary of the Kaydet biplane trainer.
Design and development
The PT-19 series was developed from the Fairchild M-62 when the USAAC first ordered the aircraft in 1940 as part of its expansion program. The original production batch of 275 were powered by the inline 175 hp Ranger L-440-1 engine and designated the PT-19. In 1941 mass production began and 3,181 of the PT-19A model, powered by the 200 hp L-440-3, were made by Fairchild. An additional 477 were built by Aeronca and 44 by the St Louis Aircraft Corporation. The PT-19B, of which 917 were built, was equipped for instrument flight training by attaching a collapsible hood to the front cockpit.
When a shortage of engines threatened production, the PT-23 model was introduced which was identical except for the 220 hp Continental R-670 radial powerplant. A total of 869 PT-23s were built as well as 256 of the PT-23A, which was the instrument flight-equipped version. The PT-23 was manufactured in the US by Fairchild, Aeronca, St Louis Aircraft Corporation and Howard Aircraft Corporation and in Canada by Fleet Aircraft Corporation.
The final variant was the PT-26 which used the L-440-7 engine. The Canadian-built versions of these were designated the Cornell for use by the Royal Air Force Empire Air Training Scheme in Canada and Rhodesia.
Specifications (PT-19A)
General characteristics
Crew: 2, student & instructor
Length: 28 ft (8.53 m)
Wingspan: 36 ft (10.97 m)
Height: 10 ft 6 in (3.20 m)
Wing area: ft² ( m²)
Empty: lb ( kg)
Loaded: 2,545 lb (1,154 kg)
Powerplant: 1 x Ranger L-440-3, 200 hp ( kW)
Performance
Maximum speed: 132 mph (212 km/h)
Range: 430 miles (692 km)
Service ceiling: 15,300 ft (4,663 m)
Rate of climb: ft/min ( m/min)
Wing loading: lb/ft² ( kg/m²)
Power/mass: hp/lb ( kW/kg)
Operators
Related content
Related development: Fairchild M-62
Comparable aircraft: Miles Magister - Yakovlev UT-2
Designation series: PT-19 - PT-23 - PT-24 - PT-26
See also