Fairchild Hiller FH-1100
From PlaneSpottingWorld, for aviation fans everywhere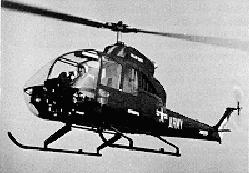 The Fairchild Hiller FH-1100 is a light helicopter produced mainly in the 1960s. It was a civil version of the YOH-5A entrant in the US Army's LOH competition.
Development
Light Observation Helicopter (LOH)
In October 1961, the Army submitted a request for proposals (RFP) for the Light Observation Helicopter (LOH). Bell, along with 12 other manufacturers (including Fairchild-Hiller and Hughes Tool Co. Aircraft Division), entered the competition.[1] Bell submitted their design for model 206, which was selected out of the design phase of the Navy-run competition by the Army[2] and designated as the YHO-4A.[3][4]
Bell produced 5 prototype aircraft in 1962 to submit to the Army for the Test and Evaluation phase. That same year, all aircraft began to be designated according to the new Joint Services designation system, so the prototype aircraft were redesignated as YOH-4A. During the testing phase, the test pilots complained about the power problems of the aircraft, an issue that apparently knocked it out of the running, because when the winners were announced to progress on to the final selection phase, Bell's YOH-4A wasn't selected.[5]
After the failed military contract bid, Bell attempted to market the model 206, but it didn't fare well at all commercially. Bell's market research showed that it was the body design that customers found mostly unpalatable. When Bell redesigned the body of the airframe to a more sleek and aesthetic design and reintroduced it as the Model 206A, the JetRanger was born and Bell found they had a commercial success on their hands.[6]
In 1967, the Army reopened the LOH competition for bids because Hughes Tool Co. Aircraft Division couldn't meet the contractual production demands.[3] Fairchild-Hiller failed to resubmit their bid with the YOH-5A, which they had successfully marketed as the FH-1100.[7] In the end, Bell underbid Hughes to win the contract and the model 206A was designated as the OH-58A. Following the U.S.Army's naming convention for helicopters, the OH-58A was named Kiowa in honor of the Native American tribe.
Bell resubmitted for the program using their model 206A design.
Users
Military
Specifications
General characteristics
Crew: 1 pilot, 2 pilots, or 1 pilot and 1 observer
Length: 32 ft 2 in (9.81 m)
Rotor diameter: 35 ft 4 in (10.77 m)
Height: 9 ft 7 in (2.92 m)
Empty weight: 1,553 lb (704 kg)
Max takeoff weight: 2313 lb (1049 kg)
Powerplant: 1× Allison 250-C18 turboshaft, 317 shp (236 kW)
Fuel capacity: 70 gal (264.9 liters)
Performance
Armament
or
M129 40 mm Grenade Launcher
References
External links
Related content
Comparable aircraft

Designation sequence

Pre 1962 Army:
Joint Service System (post 1962):
Related lists

de:Bell OH-58 Kiowa pl:Bell OH-58 Kiowa pt:OH-58 Kiowa fi:OH-58 Kiowa