British Aerospace BAe 125
From PlaneSpottingWorld, for aviation fans everywhere
The twin-engined British Aerospace BAe 125 is the world's best selling mid-size corporate jet, now marketed as the Raytheon Hawker 800. It was known as the Hawker Siddeley HS125 until 1977. It is also used by the British Royal Air Force as a navigation trainer (as the Hawker Siddeley Dominie), and was used by the United States Air Force as a calibration aircraft (as the C-29).
Development
In 1961, de Havilland began working on a revolutionary small business jet known as DH.125 Jet Dragon. The first of two prototypes flew on 13 August 1962 powered by the Bristol Siddeley Viper turbojet
The aircraft went through many designation changes during its service life. Originally DH.125, it was renamed to HS.125 when de Havilland became a part of the Hawker Siddeley group in 1959. When Hawker Siddeley Aircraft merged with BAC to form British Aerospace in 1977, the name changed to BAe 125. Then, when British Aerospace sold its Business Jets Division to Raytheon in 1993, the jet acquired its current monicker Raytheon Hawker. In 1996, production was transferred from British Aerospace's Broughton Plant outside Chester to the United States.
Over 1,000 aircraft have been built.
Variants
DH.125 Series 1 - first production version, 8 built
DH.125 Series 1A/1B - upgraded Bristol Siddeley Viper 521 (Series 1A) or 522 (Series 1B) engines with 3,090 lbf (13.8 kN) of thrust each
HS.125 Series 2 - military versions
HS.125 Series 3 - upgraded engines
HS.125 Series 400 - upgraded engines
HS.125 Series 600 - 3 ft 1 in (0.94 m) fuselage stretch to increase capacity to 14 passengers
HS.125 Series 700 - Honeywell TFE731-3RH turbofan engines with 3,720 lbf (16.6 kN) of thrust each, first flight 19 June 1976
HS.125 Protector - Series 700-based maritime patrol aircraft with a search radar and cameras
BAe.125 Series 800 - increased wingspan, streamlined nose, tail fin extension, increased fuel capacity, first corporate jet to feature an EFIS cockpit, upgraded engines, first flight 26 May 1983
Hawker 800 - BAe.125-800 after 1993
Hawker 800XP - TFE731-5BR1H turbofan engines with 4,660 lbf (20.8 kN) of thrust each
Hawker 800SP and 800XP2 - New designation for 800A/B and 800XP aircraft when upgraded with aftermarket winglets
C-29A - Series 800 for US military designed to replace Lockheed C-140A, used by the Air Force Communications Service to check navigation aids and communications at US airbases around the world, participated in Operation Desert Shield and Operation Desert Storm during the First Persian Gulf War.
U-125 - Series 800-based search and rescue aircraft for Japan
BAe.125 Series 1000 - intercontinental version of the Series 800, 2 ft 9 in (0.84 m) fuselage stretch to increase capacity to 15, increased fuel capacity, Pratt & Whitney Canada PW-305 turbofans with 5,200 lbf (23.2 kN) thrust each, first flight 16 June 1990, 52 built
Hawker 1000 - BAe.125-1000 after 1993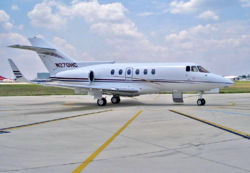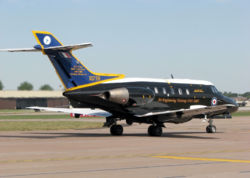 Operators
Private operators worldwide, armed forces of United Kingdom, Ireland, United States, Japan, Argentine, Botswana, Brazil, Malawi, Malaysia, Saudi Arabia,UAE (Hamra Air), South Africa.
Recently, a group of Hawker 125 operators, aircraft parts sales companies and maintenance service providers specializing in Hawker 125 series technical & parts support have joined together to share solutions to ongoing technical issues related to the continued operations of a maturing Hawker fleet.
Specifications (Hawker 850XP)
General characteristics
Crew: 2
Capacity: 8
Length: 51 ft 2 in (15.6 m)
Wingspan: 54 ft 4 in (16.6 m)
Height: 18 ft 1 in (5.5 m)
Wing area: ft² (m²)
Empty weight: 15,670 lb (7,110 kg)
Useful load: 11,790 lb (5,350 kg)
Max takeoff weight: 28,000 lb (12,700 kg)
Powerplant: 2× Honeywell TFE731-5BR turbofans, 4,660 lbf (20.8 kN) each
Performance
References
Donald, D.; Lake, J. (editors) (1996). Encyclopedia of world military aircraft.. AIRtime Publishing. ISBN 1-880588-24-2.

 

Mason, F. K. (1991). Hawker aircraft since 1920. Putnam Aeronautical Books. ISBN 1-55750-351-6.

 
External links
Related content
Related development

Comparable aircraft

Designation sequence

Related lists