Sikorsky H-19
From PlaneSpottingWorld, for aviation fans everywhere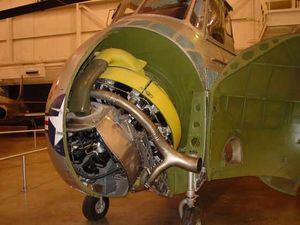 The Sikorsky H-19, (also known as the S-55) was a multi-purpose helicopter used by the United States Army. It was also license-built by Westland Aircraft as the Westland Whirlwind in the United Kingdom. United States Navy and Coast Guard models were designated HO4S, while those of the U.S. Marine Corps were HRS.
History
The H-19's first flight was on November 10, 1949 and it entered operations in 1950. Over 1,000 of the helicopters were manufactured by Sikorsky for the United States. An additional 550 were manufactured by licensees of the helicopter including Westland Aircraft, Sud-Est in France and Mitsubishi in Japan.
The helicopter was widely exported, used by many other nations, including Israel, Chile, South Africa and Turkey.
Combat Experience
The H-19 underwent live service tests during the Korean War beginning in 1951 as an unarmed transport helicopter. Undergoing tests such as medical evacuation, tactical control and front-line cargo support, the helicopter succeeded admirably in surpassing the capabilities of the H-5 Dragonfly which had been used throughout the Korean conflict by the Army.
In 1956, the French Air Force experimented with arming the H-19 Chickasaw aka Sikorsky S-55, then being superseded in service by the more capable Piasecki H-21 and Sikorsky H-34 helicopters. The H-19 was originally fitted with a 20-mm cannon, two rocket launchers, plus a 20-mm cannon, two 12.7-mm machine guns, and a 7.5-mm light machine gun firing from the cabin windows, but this load proved far too heavy, and even lightly-armed H-19 gunships fitted with flexible machine guns for self-defense proved underpowered.
The H-19 was also used in the early days of the Vietnam War before being supplanted by the Sikorsky H-34 Choctaw, which was based on the H-19.
Operators
Military Operators
Civil Operators
Template:USA: New York Airways, founded in 1949, used modified Sikorsky S-55 to carry mail and cargo. Later they used helicopters designed specifically for the civilian market.
In fiction
Harold the Helicopter is based in the Sikorsky S-55 or its Westland counterpart.
Specifications (H-19)
Template:Aircraft specification
External link
References
Duke, R.A., Helicopter Operations in Algeria [Trans. French], Dept. of the Army (1959)
France, Operations Research Group, Report of the Operations Research Mission on H-21 Helicopter Dept. of the Army (1957)
Riley, David, French Helicopter Operations in Algeria, Marine Corps Gazette, February 1958, pp. 21-26.
Shrader, Charles R., The First Helicopter War: Logistics and Mobility in Algeria, 1954-1962, Westport, CT: Praeger Publishers (1999)
Spenser, Jay P., Whirlybirds: A History of the U.S. Helicopter Pioneers, Seattle, WA: University of Washington Press (1998)
Retrieved from "http://en.wikipedia.org/wiki/Attack_helicopter"
Related content

Related development

Comparable aircraft

Designation sequence

Related lists

da:S-55 de:Sikorsky S-55 it:Sikorsky S-55 ja:S-55 (航空機) pt:Sikorsky UH-19