R3Y Tradewind
From PlaneSpottingWorld, for aviation fans everywhere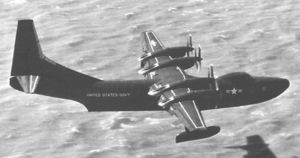 The Convair R3Y Tradewind was a turboprop-powered flying boat for the United States Navy which entered service in 1954. Originally designed as a patrol bomber under the designation P5Y, the design was soon adapted to a transport aircraft. Eleven aircraft were built, of which six were front-loading R3Y-2 aircraft with a hinged nose and high cockpit; they were intended to be a Flying LST (landing craft). The aircraft were converted into tankers for the inflight refuelling role. They had a short service life because of the insoluble unreliability of their Allison T40 turboprop engines, a fate common to most early turboprop-powered aircraft, such as the Ryan F2R Dark Shark fighter.
Convair received a requirement from the US Navy immediately postwar in 1945 for a large flying-boat using the new technology developed during the war, especially the laminar flow wing and the developing turboprop technology. Their response, the Model 117 was a large, high-wing flying boat with Allison T-40 engines driving six-bladed contra-rotating propellers, a slender high-lift wing with fixed floats, and a sleek body with a single-step hull. The first flight was in 1950 and the first entered service in 1954.
The first two built were in P5Y configuration, armed with 8,000 lb (3,600 kg) of stores (bombs, mines, depth charges, torpedoes) and 5 pairs of 20 mm cannon in fore and aft side emplacements and a tail turret. The next five were built as R3Y-1 aircraft, intended for troop transport and inflight refuelling tanker service. The final six were built as the R3Y-2 variant with a lifting nose and high cockpit (similar to modern-day eyes to the C-5 Galaxy's nose and cockpit) for heavier transport and landing-ship duties.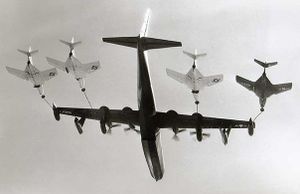 The R3Y set a transcontinental seaplane record of 403 mph in 1954 by utilising the speed of high-altitude jetstream winds. This record still stands. It was also the first aircraft to successfully refuel four others simultaneously in flight in 1956, refuelling four F9F Cougars.
The program was halted after thirteen aircraft were built, the reason being the unreliability of the Allison T-40 turboprops. The crash of one of the two XP5Y-1 aircraft was judged due to catastrophic engine failure; when little progress was being made, the Navy halted the program. Subsequently three more aircraft were lost through engine failures, and the Navy gave up on the T-40 and aircraft powered by it. All P5Y and R3Y aircraft were grounded in 1958 and subsequently broken up.
Operators
Specifications (R3Y)
General characteristics
Length: 139 ft 8 in (42.26 m)
Wingspan: 145 ft 9 in (44.42 m)
Height: 51 ft 5 in (15.68 m)
Wing area: 2,102 ft² (195.3 m²)
Empty weight: 71,824 lb (32,579 kg)
Loaded weight: 145,500 lb (66,000 kg)
Max takeoff weight: 165,000 lb (74,800 kg)
Powerplant: 4 sets of 3-blades× Allison T-40 turboprops, 8 engines in 4 pairs, each with 5,100 hp (3,800 kW) each
Performance
Related content
Designation sequence

Related lists

See also
Template:Convair aircraft