Partenavia P.68
From PlaneSpottingWorld, for aviation fans everywhere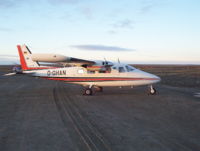 The Italian built Partenavia P.68 Victor was designed by Professor Luigi Pascale and originally put into production in 1974. It is a six-seat, twin-engined, high-wing, monoplane and was intended for private or business use but has also seen use as both a training and a transport aircraft. The P.68 Observer, which was an Italian/German development, has a transparent nose for use in police work and observation duties.
In 1975 construction of the P.68R was underway and at the same time Partenavia were working with the French company Société d'Etudes et Fabrications Aéronautiques to produce the P.68B. The P.68R was to be the turboprop version and would also have retractable landing gear. The nosewheel retracting forward and the main wheels into the fairings on the fuselage sides. The P.68B would be available with wheel/skis or amphibious landing gear.
Power is supplied by either two Lycoming piston engines (pictured on the right) or two Allison turboprops. The P.68 can be flown with one or two pilots as dual controls are provided. The seating is set in three rows of two with baggage space aft of the rear seats.
The ICAO designator for all versions of the P.68 as used in flight plans is P68.
It is still in production, by Vulcanair SpA
Specifications (P.68 Victor)
General characteristics
Crew: 1 or 2
Capacity: 5 or 4 (depending on crew)
Length: 12.00 m (30 ft 8 in)
Wingspan: 12.0 m (39 ft 41/2 in)
Height: 3.4 m (11 ft 13/4 in)
Wing area: 19.44 m² (206 ft²)
Empty: 1,200 kg (2,645 lb)
Loaded:
Maximum takeoff: 1,960 kg (4,321 lb)
Powerplant: 2 x Lycoming IO-360, 149 kW (200 hp)
Performance
Maximum speed: 322 km/h (174 knots)
Ferry Range: 1,681 km (907 nautical miles)
Service ceiling: 6,100 m (20,000 ft)
Rate of climb: 488 m/min (1,600 ft/min)
Wing loading: 105 kg/m² ( 21.5 lb/ft²)
Power/mass: hp/lb ( kW/kg)