P-1 Hawk
From PlaneSpottingWorld, for aviation fans everywhere
The Curtiss P-1 Hawk was an open-cockpit bi-plane fighter of the U.S. Army Air Corps. An earlier variant of the same aircraft had been designated PW-8 prior to 1925.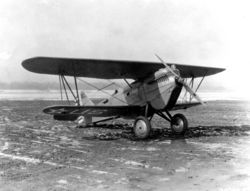 The Curtiss P-1 Hawk was the first US Army Air Service aircraft to be assigned the "P" (Pursuit) designation which replaced seven designations for pursuit aircraft, including "PW" ( for "Pursuit, Water-cooled engine"). The P-1 was the production version of the Curtiss XPW-8B, an improved variant of the PW-8, 25 of which were operational with the Air Service's 17th Pursuit Squadron.
The PW-8 (Curtiss Model 33) had been acquired by the Air Service in 1924 after a competition with the Boeing Model 15, designated the PW-9, to replace the existing Army fighter, the MB-3A. Although the PW-8 was faster than the PW-9, it was otherwise out-performed by the Boeing plane, and its cooling system appeared to be more difficult to maintain and vulnerable in combat. However Assistant Chief of the Air Service Brig. Gen. Billy Mitchell agreed to purchase 25 PW-8s in return for assistance by Curtiss in making the "Dawn-to-dusk" transcontinental flight across the United States.
On June 23, 1924, taking off at 3:58 A.M., Army test pilot 1st Lt. Russell Maughan left Mitchel Field, New York, in PW-8 24-204, modified with additional fuel and oil tanks. Refueling five times, he landed at Crissy Field, San Francisco, California, at 9:46 p.m., one minute before dusk, covering 2,670 miles in 20 hours and 48 minutes. His flight time included four planned 30-minute stops at McCook Field, Ohio; Saint Joseph, Missouri; Cheyenne, Wyoming; and Salduro Siding, Utah; and an unplanned stop in North Platte, Nebraska for additional fuel when a muddy field in Missouri did not permit him to take on a full load. He also lost an hour at McCook to repair a broken fuel valve after an over-eager mechanic had over-torqued a wrench capping the valve.
The XPW-8B came about when the Air Service, which had selected the Boeing PW-9 over the PW-8 as its main production fighter, asked Curtiss to modify one of its three original XPW-8 prototypes with wings resembling those of the PW-9. Curtiss designated the modified aircraft its Model 34A and returned it to the Air Service for evaluation, from which the service ordered it into production as the P-1. The first production P-1, serial number 25-410, was delivered on August 17, 1925, and was followed in successive years by the P-1B and P-1C variants with improved engines. The newest P-1 variants remained in operational service until 1930.
Two single-seat advanced trainer variants were placed into production, the AT-4 and AT-5A, using Wright-Hispano engines. All were re-engined with Curtiss D-12D engines and reverted to use as fighters, designated P-1D and P-1F respectively. 5 AT-4/XAT-5 test vriants were re-classified as P-1E.
A total of 188 PW-8 and P-1 airplanes of all variants were delivered.
Variants
XPW-8: 3 manufactured, one modified to XPW-8B standard
PW-8: 25 produced and flown by 17th Pursuit Squadron
P-1: 6 built for testing and racing. 5 converted to P-2 with a larger engine, but 3 reverted to P-1A standard
P-1A: 25 built with D-12C engine. Final two converted to XAT-4 Trainer and XP-3 racer prototypes. Delivered in 1926.
P-1B: 25 produced with D-12D engine. Increased weight reduced performance. Delivered 1927.
P-1C: 33 Built with D-12E engine. Increased weight further decreased weight. delivered 1927-28.
P-1D: 35 produced as AT-4 trainers, all re-engined with D-12D engines and converted to P-1D
P-1E: 5 built as AT-4s and converted to XAT-5 prototype. All re-engined and converted to P-1E.
P-1F: 31 produced as AT-5A trainers, re-engined in 1929 and converted to P-1F.
All variants increased in weight with each succeeding model, resulting in slight reductions in performance with each.
Specifications (Curtiss P-1A Hawk)
General characteristics
Length: 22 ft. 11 in.
Span: 31 ft. 6 in.
Height: 8 ft. 10.75 in.
Engine: Curtiss D-12, V-1150, 12 cylinder of 435 hp.
Armament: 1 .30 cal. and 1 .50 cal machine gun
Performance
Maximum speed: 160 mph
Cruise speed: 128 mph
Rate of climb: 2,170 ft/min
Ceiling: 22,500 ft.
Range: 342 miles
Weight empty: 2,058 lb.
Maximum weight: 2,841 lb.
Operators
Source:
Designation sequence

Related lists