North American BT-9
From PlaneSpottingWorld, for aviation fans everywhere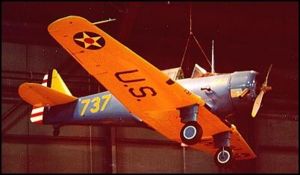 The North American BT-9 was a monoplane primary trainer aircraft that served with the United States Army Air Corps and other allied countries during World War II. It was a contemporary of the Kaydet biplane trainer.
The BT-9 evolved from the North American NA-16, North American's first numbered airplane model, which first flew in April 1935. The BT-9 design first took to the skies in April 1936.
The NA-57, designated by the Army Air Corps as a BT-9, was a basic trainer developed by North American (NA). Except for the movable surfaces on the tail and wings which were fabric covered, it was an all metal military trainer. The Army Air Corps purchased a total of 199 BT-9s, BT-9As and BT-9Bs. Many foreign countries also used variants of this aircraft. The NA-26, an improved model with retractable landing gear was initially produced as the basic combat trainer (BC-1), before being designated the AT-6 Texan advanced trainer.
Specifications and performance
Span: 42 ft (12.8 m)
Length: 28 ft (8.5 m)
Height: 13 ft 7 in. (4.1 m)
Weight: 4,470 lb (2030 kg) loaded
Armament: none
Engine: Wright R-975-53 of 400 hp (300 kW)
Crew: Two - Instructor pilot and Student pilot
Cost: $20,000
Maximum speed: 170 mph (273 km/h)
Cruising speed: 146 mph (235 km/h)
Range: 877 statute miles (1411 km)
Service ceiling: 19,750 ft (6,020 m)
Museum displays
External links
Related content
Related development

Designation sequence

See also