Helio Courier
From PlaneSpottingWorld, for aviation fans everywhere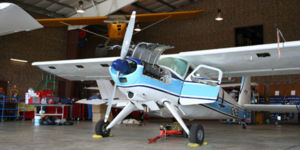 The Helio Courier is a light C/STOL utility aircraft designed in 1949. With a minimum-control speed of around 28 mph, the Courier was perfectly suited for confined off-airport operations. The first one certified in July of 1954 and powered by the Lycoming GO-435-C2B2 (260)HP. In 1957 a "Strato Courier" set an altitude record over Mexico City, Mexico at 31,200 Ft. powered by a geared Lycoming GSO-480 (340)HP, only one was built. The Super Courier, a more powerful derivative, was used by the US Air Force from 1958 onward, and by Air America during the Vietnam War as the U-10. In USAF service, the U-10 Super Courier was used for liaison work, light cargo and supply drops, psychological warfare, forward air control, and reconnaissance. Various versions were produced up through the 1980s, including turbine-powered variants. Some are still in use today as bush planes and light transports.
The Helio AU-24A was the gunship version of the H550A Stallion, with a PT6A-27 (680)s.h.p. turboprop, equipped with a General Electric XM-197 three-barrel 20 mm Gatling gun was mounted in the left cargo door. It also had 5 underwing and fuselage hardpoints. Of the 17 built aircraft, fourteen or fifteen were sold to the Cambodian (Khmer) Air Force. The Helio Stallion was also built as U-10 Super Courier (ex L-28). Over 120 were built: L-28A (2, later redesignated U-10A), U-10A (26), U-10B extended range and paratrooper doors (57), U-10D heavier (36), but no U-10C.
The aircraft was manufactured in Pittsburg, Kansas from 1954 until 1974. During the early 1980s, new owners (Helio Aircraft LTD) made an attempt to build new aircraft with direct-drive Lycoming engines, winglets, and composite landing gear that were far too heavy at the expense of high fuel consumption. 2 models were produced H-800 and H-700. 18 aircraft were built and no Helio's have been produced since.
The all-aluminum airframe featured a welded 15G steel-tube roll cage, complete with shoulder harnesses that protected the occupants in an emergency. The wings were of conventional aluminum construction but featured Handley Page leading-edge slats that deployed automatically once the aircraft's airspeed fell below a certain value (55-60 mph). The slats contributed to the Helio's outstanding short takeoff and landing (STOL) capability, and allow for stall/spin-proof controllable flight, in conjunction with the leading-edge slats, 74% of the trailing edge incorporates high lift slotted flaps, together with interceptor blades atop each wing when roll control is lost a very low airspeed, allows for turn radius within the wingspan of the airplane.
The design of the Helio featured a large vertical surface and rudder for control at very low flight speeds, however, on conventional geared aircraft (taildraggers), the airplane tends to be cross-wind sensitive, thus a cross-wind grear option is available allowing the main tires to caster left or right 20 degrees, increasing the cross-wind component to 25 mph. The Helio has it's main gear placement far forward of the cabin enabling hard braking on unprepared landing areas. A tri-gear model was produced but is unsuitable for unprepared rough terrain
The Helios are also capable of being float equipped, both straight and amphibious floats being offered.
The Helios are very popular amongst bush pilots in Canada and Alaska and missionaries who fly into rough, relatively unprepared jungle airstrips because of its superior STOL abilities.
It is thought that about 200 Helio Couriers are active today. Some operators use the Helio Couriers for aerial observation. Both Winged Vision Inc. of Gaithersburg, MD and the Pima County AZ Sheriff's Department operate the rare tri-gear model and mount gyro stabilized cameras under the wing for aerial observation.
Pima County mounts a FLIR camera for law enforcement and Winged Vision mounts a high definition television camera for coverage of major sports events. They include Monday Night Football, the 2002 Winter Olympics in Salt Lake and other major sports events.
Specifications (U-10D Super Courier)
General characteristics
Crew: one pilot
Capacity: 5 passengers
Length: 30 ft 8 in (9.35 m)
Wingspan: 39 ft 0 in (11.89 m)
Height: 8 ft 10 in (2.69 m)
Wing area: ft² ( m²)
Empty: lb ( kg)
Loaded: 3,400 lb civilian, 3600 lb. military (1,636 kg)
Useful load: 1320 lb ( kg)
Powerplant: 1 Lycoming GO-480-G1D6 geared six-cylinder engine, 295 hp (220 kW)
Performance
Maximum speed: 170 mph (288 km/h)
Range: 1,380 miles (120 gal. fuel) (1,760 km)
Service ceiling: 20,500 ft (6,250 m)
Rate of climb: 1200 ft/min ( m/min)
Wing loading:
Power/Mass:
Military Operators
External links
Related content
Related development: Helio Twin Courier
Comparable aircraft: Murphy Moose - Max Holste M.H. 1521 Broussard - De Havilland Canada DHC-3 Otter
Designation sequence (pre-1962): L-20 - L-21 - L-23 - L-24 - L-25 - L-26 - L-27 - L-28
Designation sequence (post-1962): U-7 - U-8 - U-9 - U-10 - U-11 - U-16 - U-17