Extra 300
From PlaneSpottingWorld, for aviation fans everywhere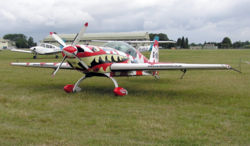 The Extra Flugzeugbau Extra 300 is a competition-level aerobatic monoplane aircraft. Designed by Walter Extra, a retired aerobatic pilot, in 1987. It has since evolved into a higher-performance single-seat version (the 300S/330XS) and has been updated to make use of composite technology.
The aircraft is based on a welded steel tube fuselage covered in light alloy and fabric. The mid-set wing is made of carbon composites under fiberglass shells and uses a symmetrical airfoil. The landing gear is fixed taildragger style with composite main legs and fiberglasss wheel pants.
The Extra 300 is stressed for +/- 10 G with one person on board and +/- 8G with two. The Extra 300L is a two-seater low wing variant of the 300, with its wingspan reduced from 26 ft 3 in (8.00 m) to 25 ft 3 in (7.70 m). Improved ailerons boost the 300L's roll rate to 400 degrees per second. The 300S has a wingspan reduced by 1 ft 7½ in, and is also fitted with larger ailerons. The Extra 330 is a development of the 300S with a wider-chord rudder and a more powerful Lycoming IO-580 powerplant producing 330 hp (246 kW).
Notable examples
Trivia
Patty Wagstaff's Extra 300S is featured on five flight simulators: Microsoft Flight Simulator 95, Microsoft Flight Simulator 2002, Microsoft Flight Simulator 2004 and Microsoft Flight Simulator X, as well as on RealFlight G3.
Specifications (EA-300L)
General characteristics
Crew: two pilots
Capacity: one
Length: 6.65 m (22 ft 9.5 in)
Wingspan: 7.70 m (25 ft 3 in)
Height: 2.62 m (8 ft 7 1/4 in)
Wing area: 10.44 m² ( ft²)
Empty: 620 kg (1,199 lb)
Maximum takeoff: 868 kg (1,914 lb)
Powerplant: Lycoming AEIO-540-L1B5, 300 hp
Performance
Maximum speed: 408 km/h
Range: 944 km (586 miles) with auxiliary fuel
Service ceiling: 4875 m (16,000 f)
Roll Rate:360 degrees per second
Military Operators
Related content
Related development

Comparable aircraft

Designation sequence
EA-200 - EA-300 - EA-330 - EA-400 - EA-500
See also