Antonov An-3
From PlaneSpottingWorld, for aviation fans everywhere
The Antonov An-3 is a Ukrainian agricultural aircraft designed during the Soviet Union era. It is essentially an turboprop-powered development of the An-2 designed to upgrade or replace it. The first example flew as early as May 13 1980, but because of a lack of official interest in the project, work proceeded very slowly - flight testing was not complete until 1991. It is one of the few turbine powered biplane designs to date.
The project was revitalised in the late 1990s when it was taken over by Polyot State Aerospace Enterprise, and a marketing campaign began in earnest in 2000, although sales have been limited. It is available in two forms, the basic agricultural aircraft (An-3SKh - "Selsko-Khosiajstwenni", Agricultural) and a civil transport version (An-3T) able to carry 12 passengers or 1,800 kg (4,000 lb) of cargo.
Although it is designated An-3, this number is not assigned sequentially. Antonov assigned it to the plane because it was meant to replace the An-2.
Another attempt to replace the An-2 on Soviet farms was made in 1970s with the WSK-Mielec M-15 Belphegor, but it failed.
Specifications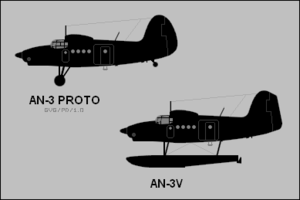 General characteristics
Crew: 2
Capacity: 2,200 L (540 U.S. gal) of chemicals
Length: 14.0 m (45 ft 11 in)
Wingspan: 18.2 m (59 ft 8 in)
Height: 4.9 m (ft in)
Wing area: 71.6 m² (770 ft²)
Empty weight: 3,200 kg (7,000 lb)
Loaded weight: 1800 kg ()
Max takeoff weight: 5,800 kg (13,000 lb)
Powerplant: 1× Glushenkov TVD-20M turboprop, 1,066 kW (1,430 shp)
Performance
References
Самолет АН-3

(Russian)

. Russian Weapons and Military Technologies. CompActive Ltd. Retrieved on 2006-07-01. (Shortened version in English available here)
Related content

Related development

Comparable aircraft

Designation sequence

Related lists

See also
Template:Antonov aircraft