Pilatus PC-12
From PlaneSpottingWorld, for aviation fans everywhere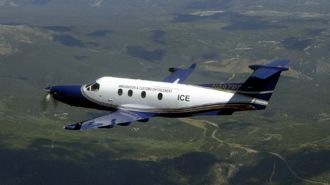 The Pilatus PC-12 is a single-engine turboprop passenger and cargo aircraft manufactured by Pilatus Aircraft of Switzerland. The main market for the aircraft is corporate transport and regional airliner operators.
As with many other Pilatus aircraft, the PC-12 is powered by a single Pratt & Whitney Canada PT6A-67B turboprop engine. It is certified for single-pilot IFR operations, though operators may choose to utilize a second flight crew member.
History
Pilatus announced the development of the PC-12 at the National Business Aircraft Association's annual convention in October 1989. The first flight of the first of two prototypes took place on 31 May 1991. Certification of the type was originally planned for mid-1991 but a redesign of the wings (increase of wing span and addition of winglets to ensure performance guarantees were met) delayed this. Swiss certification finally took place on 30 March 1994 and FAA approval followed on 15 July 1994.
Versions
Nine-seat standard passenger airliner.
Six-seat executive corporate transport.
Four-seat passenger/cargo combination.
All-cargo transport.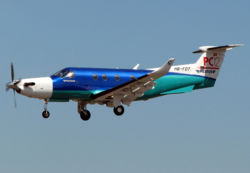 The PC-12M (the M stands for multipurpose) version, is based on the basic PC-12 but equipped with a more powerful electrical generation system in order to enable the integration of additional power-consuming equipment. This enables the PC-12M to perform special mission tasks such as flight inspection, air ambulance, parachutist dropping, aerial photography and aerial surveillance. This version is marketed in the United States as the PC-12 Eagle military special missions platform.
Users
Most PC-12s are currently used as corporate transports but recent regulatory changes in Australia, Brazil, Canada and the United States have cleared single engine turboprops such as the PC-12 for regional passenger transport operations in those nations. This has opened up a new potential market for the PC-12 as a regional airliner, in order to replace older twin piston-engined aircraft.
Planesense, a New Hampshire-based fractional ownership company, is the largest fractional operator of PC-12s in the world. Their aircraft have logged over 70,000 flight hours. However, the Royal Flying Doctor Service of Australia is the largest fleet operator (single company) in the world with 19 PC-12 aircrft having logged more than 110,000 hours
More than 600 PC-12s have been sold as of February 2006.
Military Users
Specifications (PC-12)
Note: These statistics are for the standard configuration (nine-passenger PC-12).
General characteristics
Crew: one or two pilots
Capacity: 9 passengers standard, 6 executive
Length: 14.40 m (47 ft 3 in)
Wingspan: 16.23 m (53 ft 3 in)
Height: 4.26 m (14 ft 0 in)
Tail wingspan: 5.20 m (17 ft 1 in)
Wing area: 25.81 m² (277.8 ft²)
Wing loading: 174.3 kg/m² (35.7 lb/ft²)
Empty: 2,661 kg (5,867 lb)
Loaded: 4,500 kg (10,450 lb)
Maximum takeoff: 4,700 kg (10,450 lb)
Maximum landing: 4,500 kg (9,921 lb)
Maximum payload: 1,600 kg (3,502 lb)
Maximum payload full fuel: 539 kg (1,189 lb)
Powerplant: 1x Pratt & Whitney Canada PT6A-67B turboprop, 895 kW (1,200 shp)
Propeller: Hartzell HC - E4A - 3D/E10477K – 4 blade aluminum
Propeller diameter: 2.67 m (8 ft 9 in)
Propeller RPM: 1,700 rpm constant speed
Performance
Maximum cruise speed: 500 km/h (312.5 mph) (270 KTAS)
Stall speed, landing configuration: 120 km/h (74.8 mph) (65 KCAS)
Range 0 passenger: 4,149 km (2,593 mi) (2,239 NM)
Range 9 passenger: 2,804 km (1,753 mi) (1,513 NM)
Service ceiling: 9,150 m (30,000 ft)
Rate of climb: 512 m/min (1,680 ft/min)at sea level
Power loading: 3.7 kg/shp (8.2 lb/shp)
Takeoff distance over 15 m (50 ft) obstacle: 701 m (2,300 ft)
Takeoff distance ground roll: 450 m (1,475 ft)
Landing distance over 15 m (50 ft) obsacle: 558 m (1,830 ft)
Landing distance ground roll: 228 m (945 ft)
Related content
Related development:
Comparable aircraft:
Designation sequence:
P-2 - P-3 - PC-6 - PC-7 - PC-9 - PC-11 - PC-12 - PC-21
de:Pilatus PC-12 es:Pilatus PC-12 pt:Pilatus PC-12 ru:PC-12M Eagle