Sikorsky Cypher
From PlaneSpottingWorld, for aviation fans everywhere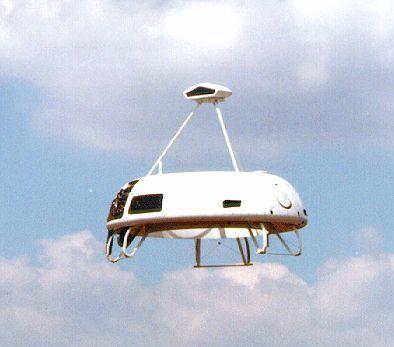 The Cypher is a type of unmanned aerial vehicle developed by Sikorsky Aircraft Corporation. It is a vertical takeoff and landing aircraft which uses two opposing rotors enclosed in a circular shroud for propulsion.
The single prototype first flew in April 1992 and flew untethered the following year. Since then, over 550 flights have been made in a series of demonstrations for the US government.
The doughnut-shaped Cypher can carry a sensor package on struts above its hull, or can be used to transport loads of up to 50 lb (23 kg).
Specifications (Cypher)
General characteristics
Crew: N/A
Capacity: 50 lb (23 kg)
Diameter: 6 ft 2 in (1.88 m)
Rotor Diameter: 4.0 ft
Height: 2 ft 0 in
Main rotor area: 25.2 ft² (2.4 m²)
Maximum Takeoff Weight: 300 lb. To 340lb. (depending on engine)
Powerplant: 1x UEL AR-801Wankel rotary engine, 50 hp (37 kW)
Rotor Diameter: 4.0 ft
Nominal Weight: 264 lb.
Payloads: EO, FLIR, small radars, chemical detectors and magnetometers, radio relay, and non-lethal payloads
Payload Weight: 25 to 50 lb.
Performance
Main rotor loading: 9.9 lb/ft² (47.5 kg/m²)
Power/Mass: 0.2 hp/lb (0.32 kW/kg)
Altitude (max): 8,000 ft
Endurance (max): 2-3 hours
Speed (max): 60 mph
Nominal Weight: 264 lb.
Max Range: 90-125 km depending on model
Trivia
The Cypher was featured in the video game Metal Gear Solid 2: Sons of Liberty as both an unarmed surveillance UAV and as an armed security UAV, protecting an oil cleanup plant. This style of deployment may not be far from reality soon.
The Cypher was also featured as a usable tool in the game Tom Clancy's Ghost Recon Advanced Warfighter. While unable to be used in combat, it can scope the area for enemies and move around based on a point and click map system.
External links
Related content
Related development:
Comparable aircraft:
Designation sequence: Cypher - Cypher II