Kamov Ka-226
From PlaneSpottingWorld, for aviation fans everywhere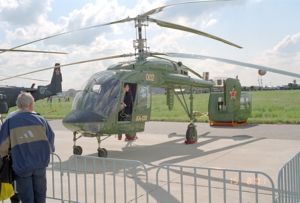 The Kamov Ka-226 (NATO reporting name Hoodlum) is a Russian utility helicopter aircraft that first flew in 2000. Ka-226 is a twin-engined version of Ka-126, Ka-26.
First flown on September 4, 1997 near Chernaya railway station, Moscow. Mass production is now also planned at Kumertau Aviation Industrial Alliance (APO), Bashkiria.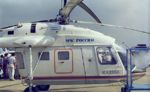 One experimental and 5 pre-serial helicopters will be built at Industrial Alliance "Strela", Orenburg, in 2000 for Ministry of Emergency of Russian Federation. Plus, 8 helicopters will be built in 2001 (3 for Moscow Rescue Service, 5 for Gasprom corporation). 3 "Moscow" helicopters are planned to be built at Kumertau APO.
Statistics
Entered production at "Motor Sich", Zaporozhye, Ukraine. 250,450 hp Rolls-Royce 250-C20R engines ordered for Ka-226 production. Model Ka-226T will have Turbomeca Arrius 2G2 engines for improved high altitude and high temperature operation.
The initial version of this article was based on material from aviation.ru. It has been released under the GFDL by the copyright holder.
External links