J2F Duck
From PlaneSpottingWorld, for aviation fans everywhere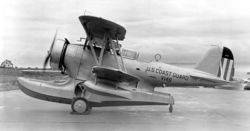 The Grumman J2F Duck was a single-engine amphibious biplane. It was originally designated as the Grumman G-15. It was produced from 1933 to 1945.
The Duck's main pontoon was part of the fuselage, making it a flying boat despite the similarity to a conventional landplane which has been float-equipped.
The aircraft was used by both the U.S. Navy and U.S. Coast Guard as utility aircraft for missions including mapping, rescue work, photography, and a target training.
Specifications (J2F-6)
Data from Jane's Fighting Aircraft of World War II[1]
General characteristics
Crew: two (pilot and observer)
Capacity: two rescued airmen
Length: 34 ft 0 in (10.37 m)
Wingspan: 39 ft 0 in (11.9 m)
Height: 13 ft 11 in (4.25 m)
Wing area: 409 ft² (38 m²)
Empty weight: 5,480 lb (2,485 kg)
Loaded weight: 7,700 lb (3,496 kg)
Powerplant: 1× Wright R-1820-54 nine-cylinder radial engine, 900 hp (670 kW)
Performance
Armament
References
↑ Jane, Fred T. " The Grumman Duck ." Jane's Fighting Aircraft of World War II. London: Studio, 1946. p. 235-236 . ISBN 1 85170 493 0.
Related content
Related development

Designation sequence