Howard DGA-15
From PlaneSpottingWorld, for aviation fans everywhere
The Howard DGA-15 was a single engine civil aircraft adapted by the US military for use in support roles during World War II, such as light transports and navigation trainers. As a Navy light transport it was designated GH-1 and by the Army Air Corps UC-70 Nightingale. As a navigation trainer the Navy designated it NH-1.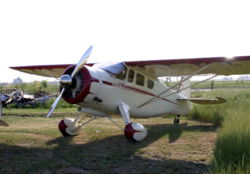 History
The Howard DGA-15 is a direct descendant of the famous Mister Mulligan racing plane, a DGA-6 by designer/pilot Ben Howard's nomenclature. "DGA" stands for "Damn Good Airplane" and that was not hyperbole.
Mister Mulligan was notable for winning in 1935 both the Bendix and the Thompson Trophies. These races were really promotional demonstrations for the airplane, as well as a good way to raise cash for Howard's business. These successes did indeed bring the DGA series much attention, and in its various permutations, differentiated mainly by different powerplants, the DGAs-8, 9, 11 and 15 emerged as coveted aircraft, owned by corporations, wealthy individuals, and movie stars, such as Wallace Beery, who was himself a pilot. (In the movie, Bugsy, Warren Beatty playing the title role is flown from Los Angeles to Las Vegas in a red Howard DGA-15.)
World War II
Prior to Pearl Harbor, about 80 DGA-8 through DGA-15 ships had been built at the Howard Aircraft Corporation factory on the south side of Chicago Midway Airport.
With America's entry into World War II, most of the civilian Howards were commandeered by the military. The Army used them as officer transports and as ambulance planes, with the designation UC-70. The Navy, in particular, much liked the plane and contracted Howard Aircraft Corporation to build hundreds of the DGA-15s to its own specifications. They were used variously as an officer's utility transport (GH-1, GH-3), aerial ambulance (GH-2), and for instrument training (NH-1). A second factory was opened at Dupage County airport, west of Chicago, and about 550 DGA's were eventually completed. The Howard was and is an excellent instrument platform, very stable and solid, especially compared to modern light aircraft.
The DGA-11 was probably the ultimate of the series. Configured as a four-place aircraft, with the 450 hp R-985, it is graceful and powerful with perfectly classical line. The more common DGA-15P is still a handsome aircraft. But as it was widened to a five place (two in front, three in the back), it's a little beefier, and not as lithe of line. It is probably also a few knots slower than the 11 with which it shares the same powerplant.
The Competition
The Howard's most comparable contemporary is the glamorous Beech 17 Staggerwing, so called because it's a closed cabin biplane with the top wing leading edge unusually positioned aft of the bottom wing's leading edge. The Staggerwing, except for the earliest in the series, has a retractable gear as opposed to the Howard's fixed one. The Staggerwing is more complex (some might say fussy) than the Howard, with its more closely spaced ribs and rib stitching, round tapered fuselage, and Rube Goldberg gear retraction mechanism. Like the Howard, the Beech 17 was offered with the same selection of powerplants, including Wrights, Jacobs, and the R-985, which powers almost all surviving 17s and Howards.
Also introduced in the latter part of this period, and driven by the same Pratt & Whitney engine, was the radically advanced Spartan Executive. The Spartan was an all metal, low wing monoplane with retractable gear, good for at least 200MPH. Conceptually, this aircraft was a major leap beyond the others, which were of conventional metal tube and fabric construction. The Howard, is however distinguished by a lovely, elliptical tipped wood wing which is extremely strong. And, in fact the red line (never exceed speed) of the rugged Howard is 270mph. Far higher than that of almost all modern single reciprocating engined aircraft currently flying.
Vintage Years
In its vintage years, the Howard, ironically, because of its enormous utility, has suffered a bit in cachet in comparison to the Beech Staggerwing. The Staggerwing, by the late fifties and early sixties, was already a highly pampered antique, usually seen in beautifully restored condition, and showing up frequently at fly-ins. The Howards by contrast, with their dependability and simple maintenance, great interior room, and ruggedness, were frequently used like flying trucks as bush planes and very often for skydiving. (In the 1969 MGM movie The Gypsy Moths, a DGA-15P is the jump plane.) Consequently, they were often as not seen in pretty beaten up condition flying as workhorses, not show horses.
In more recent years, the Howards have joined places with the Staggerwing (they are honorary members of the Staggerwing Club of Tullahoma, TN) and now are usually seen as they should be in decent to magnificently restored condition. However, they still provide great utility. Superb traveling airplanes with much better visibility, headroom, and shoulder room than the Staggerwing, they have very long "legs" with a fuel capacity of 151 gallons in three belly mounted tanks. This gives endurance of more than 7 hours, for a range at normal cruise (130kts/150mph) of over 1,000 statute miles.
Fuel management of the Howard is also less complex than for the Staggerwing which requires careful juggling. The Howard features a simple tank selector mounted under the instrument panel. It lets the pilot simply choose front, center, or rear tank; it is as simple as that.
With modern avionics, the Howard surpasses in many respects any contemporary light aircraft for its combination of room, comfort, speed, range, carrying capacity, and certainly panache. The Pratt & Whitney, a supercharged engine, gives excellent performance from high altitude strips, and lets the Howard fly comfortably and confidently at mid-altitudes above most normally-aspirated aircraft and below turbine driven planes.
There is nothing to compare to the pleasure of flying behind a radial engine, which turning over at lower RPMs than a horizontal opposed, feels smoother and generates a comfortable low, reassuring rumble for less pilot fatigue, while propelling the Howard through the sky in a most stately fashion. It's arrival never goes unnoticed, even at the most jaded exec jet terminals or International airports. And, with the stability previously noted, it is a pleasure to fly the Howard on instruments, particularly on approach, day or night.
Almost 100 of the Howard variants are still flying, mostly DGA-15s.
Specifications (UC-70)
General characteristics
Crew: one pilot
Capacity: 3-4 passengers (NH-1 trainer has additional blind flight station behind pilot)
Length: 25 ft 8 in (7.82 m)
Wingspan: 38 ft 0 in (11.58 m)
Height: 8 ft 5 in (2.57 m)
Wing area: 210 ft² (19.5 m²) (note: the wing span and chord are the same as the earlier DGA-11, but the DGA-15 area is calculated including the area displaced by the fuselage cabin)
Empty: 2,700 lb (1,225 kg)
Loaded: 4,350 lb (1,973 kg)
Maximum takeoff: 4,350 lb (1,973 kg) (US Navy models 4,500 lb/2042 kg)
Powerplant: (DGA-15P) 1× Pratt & Whitney R-985 radial, 450 hp (336 kW)
Powerplant: (DGA-15J) 1× Jacobs L6MB radial, 330 hp (246 kW)
Powerplant: (DGA-15W) 1× Wright Whirlwind J6-7 radial, 350 hp (261 kW)
Performance
Maximum speed: 201 mph (323 km/h)
Never Exceed speed: 270 mph (437 km/h)
Range: 1,260 miles (2,028 km)
Service ceiling: 21,000 ft (6,555 m)
Rate of climb:(DGA-15P) 1800 ft/min (550 m/min)
Wing loading: 21.3 lb/ft² (104.7 kg/m²)
Power/mass:(DGA-15P) 0.100 hp/lb (0.165 kW/kg)
Power/mass:(DGA-15J) 0.076 hp/lb (0.125 kW/kg)
Power/mass:(DGA-15W) 0.080 hp/lb (0.132 kW/kg)
Related content
Comparable aircraft: Beech 17 Staggerwing
Designation sequence (US Navy): GH
Designation sequence (USAAC): C-67 - C-68 - C-69 - C-70 - C-71 - C-72 - C-73
External links