Honda HA-420 HondaJet
From PlaneSpottingWorld, for aviation fans everywhere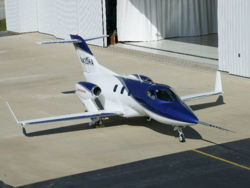 The HondaJet is the first aircraft developed by the Honda Motor Company that will be made available to the general aviation market. The HondaJet made its maiden flight in December 2003 and was debuted to the public at the EAA AirVenture air show in Oshkosh, Wisconsin, in July 2005. On July 25, 2006, Honda returned to Oshkosh to announce it would commercialize the HondaJet, establishing the Honda Aircraft Company to seek both type and production certification of the HondaJet with production to take place in the United States. The company will begin taking customer orders for HondaJet in the fall of 2006 with delivery beginning in 2010 at a price of approximately $3.65 million US. The plan is to build 70 jets per year.
In August 2006 Honda and Piper Aircraft announced a partnership to market the HondaJet.[1]
Development
Honda began research into small sized business jets in the late 1980s, using engines from other manufacturers. The Honda MH02, an organic matrix composite prototype, was fabricated and assembled at Mississippi State University's Raspet Flight Research Laboratory in the late 1980s and early 1990s. This research led to Honda developing its own small turbofan jet engine, the HF120 in 1999. The HF120, which was developed with GE-Aviation under the GE Honda partnership, was test-flown on a Cessna Citation and on a modified Boeing 727-100. The engine features a single fan, a two-stage compressor and a two-stage turbine. Further design testing on wing shape and design were done on a Lockheed T-33 Shooting Star, modified by AVTEL Services, Inc, and flight tested at the Mojave Airport. The HondaJet made its first flight on December 3, 2003 at the Piedmont Triad International Airport in Greensboro, North Carolina, and its first public presentation was on July 28, 2005 at EAA's AirVenture Oshkosh in Oshkosh, Wisconsin.
Features
Honda decided to go with an unusual over-the-wing podded engine configuration, a feature developed on the Fokker VFW-614 decades earlier, which allows for more space within the fuselage and reduction in drag at higher speeds. The fuselage itself is made from lightweight composite materials, while the wings are made from structurally reinforced single sheets of aluminum. The use of a single sheet allows for a smoother surface than more conventional methods. Honda claims that the combination of lightweight materials, aerodynamics and the efficient engines gives the HondaJet a 30-35% higher fuel efficiency than other similar aircraft.
The aircraft is equipped with a Garmin G1000 glass cockpit system (i.e. most of the cockpit readouts are presented on flat-panel displays).
Specifications (HA-420 HondaJet)
General characteristics
Seating: 2 crew, 5 passengers (or 1 crew, 6 passengers)
Length: 12.7 m (41.7 ft)
Wingspan: 12.2 m (39.9 ft)
Height: 4.1 m (13.2 ft)
Maximum takeoff weight: 4,173 kg (9,200 lb)
Performance
Maximum speed: 778 km/h (420 kt)
Range: 2,037 km (1,100 nm)
Service ceiling: 12,497 m (41,000 ft)
External links
es:Honda HA-420 HondaJet fr:Honda HA-420 HondaJet ja:HondaJet