FR Fireball
From PlaneSpottingWorld, for aviation fans everywhere
The Ryan FR Fireball was a composite propeller and jet-powered aircraft designed for the United States Navy during World War II. The Fireball entered service before the end of the war, but did not see combat. The FR-1 Fireball was the US Navy's first aircraft with jet propulsion.
Design and development
Design began in 1943 to a proposal instigated by Admiral John S. McCain, Sr. for a composite-powered fighter; early jet engines had sluggish acceleration which was considered unsafe and unsuitable for aircraft carrier takeoff and landing. Ryan aeronautical engineer Benjamin Tyler Salmon was tasked with designing a plane to meet these criteria. His solution was a composite design that allowed for conventional piston-powered flight but gave a jet for higher speeds.
The first prototype flew on 25 June 1944, but it was lost in a crash at China Lake NAS in October that year. Investigation showed that the wing rivets were insufficiently strong, a problem cured by doubling the number of rivets, but not before the other two prototypes crashed in similar fashion.
Operational history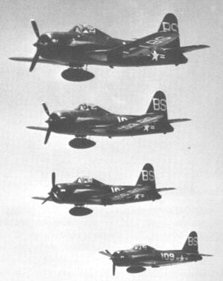 Orders for 700 aircraft were placed, but only 66 were delivered before Japan's surrender. One squadron, VF-66, was equipped with the aircraft before war's end, but they never saw combat. The Fireball was the first American aircraft to land under jet power on a ship, on the escort carrier USS Wake Island on 6 November 1945. US Navy pilots considered Fireball to be a uniquely poorly chosen name, given its "fiery accident" connotations.
The aircraft were withdrawn in 1947, fairly soon after the war's end. With the rapid advance in technology, and the removal of the pressing need to get anything into combat quickly, the Navy decided to wait for better aircraft to be developed.
The FR-1 Fireball was further developed into the XFR-2 which used a 1500 hp Wright R-1820-74W in place of the -72W. One single airframe was converted to this configuration. No prototypes were built for the next proposed variant, the FR-3, which would use a General Electric I-20 turbojet. The fastest Fireball was the XFR-4, which had a Westinghouse J34 Turbojet and was some 100 mph faster than the FR-1 [1]. The final variant was the XF2R-1 Dark Shark, which replaced the piston engine with a General Electric XT31-GE-2 turboprop, but this never entered service, though a prototype was built. This was used by Al Conover to set a new world altitude record for turboprop aircraft of 39,160 feet on 2 May 1947 [2].
Survivors
One FR-1 Fireball presently survives at the Planes of Fame Flying Museum at Chino, California, and is in the process of restoration to display condition. Another one used to be at the San Diego Air and Space Museum, but was destroyed in a fire in the 1960s [3]. Another might be in a depot of the Smithsonian.
Operators
The "Firebirds" squadron was known under three names:
VF-66 (May 1945 - October 1945)
VF-41 (October 1945 - November 1946)
VF-1E (November 1946 - mid 1947)
Specifications (FR-1 Fireball)

General characteristics
Crew: one
Length: 32 ft 4 in (12.19 m)
Wingspan: 40 ft 0 in (12.19 m)
Height: 13 ft 7¼ in (4.15 m)
Wing area: 275 ft² (25.6 m²)
Empty weight: 7,915 lb (3,590 kg)
Loaded weight: 10,595 lb (4,806 kg)
Powerplant:
Performance
max. speed only with the radial engine=475 km/h)

Armament
References
Notes
Bibliography
Ginter, Steve. Ryan FR-1 Fireball and XF2R-1 Darkshark, Naval Fighters Number 28'. Simi Valley, CA: Ginter Books, 1995. ISBN 0-942612-28-0.
Green, William and Swanborough, Gordon. WW2 Fact Files: US Navy and Marine Corps Fighters. London, UK: Macdonald and Jane's, 1976. ISBN 0-356-08222-9.
McDowell, Ernest. FR-1 Fireball, Mini in action number 5. Carrollton, TX: Squadron/Signal Publications Inc., 1995. ISBN 0-89747-344-2.
See also
Related development

Comparable aircraft

Related lists

See also
Template:USN fighters