Cirrus VK-30
From PlaneSpottingWorld, for aviation fans everywhere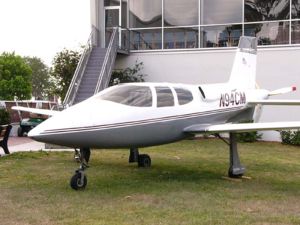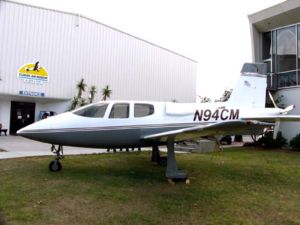 The Cirrus VK-30 is a single-engine pusher propeller homebuilt aircraft originally sold as a kit by Cirrus Design.
Development
The VK-30 design was conceived in the early 1980s as a kit plane project by three college students, Jeff Viken and Alan Klapmeier from Wisconsin's Ripon College and Dale Klapmeier who was attending the University of Wisconsin at Stevens Point. Jeff Viken's wife, Sally, designed the VK-30's flap system. Together they formed Cirrus Design as the company to produce the VK-30.
The aircraft was designed to achieve natural laminar flow over the fuselage as well as the wing and tail surfaces to provide a very low-drag design. The prototype incorporated some parts from production aircraft, including the nose gear from a Piper Cherokee and the main landing gear from a Lake LA-4. The VK-30 was designed to be a five-seat aircraft from the start, which made it considerably larger than most other amateur-built aircraft of its day.
The VK-30 incorporated a mid-engine design, driving a three-bladed pusher propeller through an extension shaft. The powerplant was a Continental IO-550-G developing 300 bhp
The VK-30 first flew on 11 February 1988 and kit deliveries commenced shortly thereafter. As of May 2005 there were only 13 VK-30s registered with the Federal Aviation Administration in the USA.
The VK-30's Legacy
As a kit aircraft the VK-30 is a relatively obscure design with few completed aircraft flying. Its most important legacy is that the work done on designing and marketing the aircraft convinced the designers that the best way to proceed in the future was with a more conventional layout and with a certified production aircraft. Thus the lessons of the VK-30 were directly responsible for the design of the very successful SR20 and SR22.
Accidents
On the 23rd of March 1996 - Retired Astronaut Robert Overmyer died at age of 59 in the crash of the VK-30 he was testing.
Specifications (VK-30)
General characteristics
Crew: one pilot
Capacity: four passengers
Length: 26 ft 0 in (8.00 m)
Wingspan: 39 ft 8 in (12.20 m)
Height: 10 ft 8 in (3.28 m)
Wing area: 126 ft² (11.7 m²)
Empty weight: 2400 lb (1087 kg)
Loaded weight: 3,600 lb (1630 kg)
Max takeoff weight: 3,600lb (1630kg)
Powerplant: 1× Continental IO-550-G constant speed, 300hp (223 kW)
Performance
External links
Related content
Related development:
Designation sequence:
References