BT-13 Valiant
From PlaneSpottingWorld, for aviation fans everywhere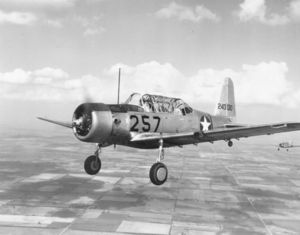 The BT-13 Valiant was a World War II-era basic trainer aircraft built by Vultee Aircraft for the United States Army Air Corps.
The Vultee BT-13 was the basic trainer flow by most pilots during WWII. It was the second phase of the three phase training program for pilots. After primary training, the student pilot moved to the more complex Vultee. The BT-13 had a more powerful engine and was faster and heavier than the primary trainer. It required the student pilot to use two way radio communications with the ground and to operate landing flaps and a two-position variable pitch propeller. It did not, however, have retractable landing gear or a hydraulic system. The large flaps are operated by a crank-and-cable system (there is no hydraulic system). Its pilots nicknamed it the "Vibrator."
Due to the demand for this aircraft, and others which used the same Pratt & Whitney engine, some were equipped with Wright powerplants of similar design and power. The Wright-equipped aircraft were designated BT-15.
The Navy adopted the P&W powered aircraft as their main basic trainer, designating it the SNV.
Today, some "BT's" (collectively, BT-13s, BT-15s and SNVs) are still flying, though in very limited numbers (and none in military or government service). After WWII, virtually all were sold as surplus for a few hundred dollars each. Many were purchased just to obtain their engines, which were mounted on surplus biplanes (such as Stearmans) to replace their less powerful engines for use as cropdusters. The BT airframes were then scrapped.
One notable post-war "variant" of the BT's are the "Tora" aircraft. In the 1960's Twentieth Century Fox purchased many BT's and modified them (in some cases heavily) to appear similar to Japanese aircraft for use in the motion picture "Tora Tora Tora". The "Kate" torpedo bombers and "Val" dive bombers seen in this film are actually BT's (the "Zero" fighters are AT-6's). After the film, these aircraft were sold to private owners. Many are still flying, several of them as part of the Commemorative Air Force's "Tora Tora Tora" squadron, which performs air battle renactments at air shows. Several "Tora" aircraft also appeared in the later "Pearl Harbor" film.
Specifications (BT-13)
General characteristics
Crew: two, student and instructor
Length: 28 ft 10 in (8.79 m)
Wingspan: 42 ft 0 in (12.80 m)
Height: 11 ft 6 in (3.51 m)
Wing area: 239 ft² (22 m²)
Empty: 3,375 lb (1,531 kg)
Maximum takeoff: 4,496 lb (2,039 kg)
Powerplant: 1 x Pratt & Whitney R-985-AN-1, 450 hp (336 kW)
Performance
Maximum speed: 180 mph (290 km/h)
Range: 725 miles (1,167 km)
Service ceiling: 21,650 ft (6,600 m)
Museum displays
External link
Related content
Related development:
Comparable aircraft: De Havilland Canada DHC-1 Chipmunk
Designation sequence (USAAC): BT-10 - BT-11 - BT-12 - BT-13 - BT-14 - BT-15 - BT-16 - BT-17
Designation sequence (USN): SNV