Sikorsky S-76
From PlaneSpottingWorld, for aviation fans everywhere
The Sikorsky S-76 Spirit is a commercial helicopter. Its first flight was on March 1977.
Overview
The Sikorsky S-76A of the US-American manufacturer Sikorsky is a multi-purpose helicopter of medium size. The machine is propelled by two turboshafts, had four-blade main and a four-blade tail rotor as well as a retractable landing gear. The prototype completed its first flight on 13 March 1977.
The development of the machine began with Sikorsky in the middle of the 1970s. Target group were companies, which looked for a medium business helicopter, as well as the oil drilling industry. Sikorsky's development experiences from the UH-60 Black Hawk served as the basis for the S-74 (later renamed S-76 in honor of the US Bicentennial). The prototype, which was able to transport 2 pilots and 12 passengers, received first two Allison 250C30 turboshafts with 478 KW each.
The S-76A was the main production variant. The type achieved 1982 several class records within the range climbing achievement, maximum speed and ceiling.
After the S-76A achieved the S-76B in the year 1987 with a top speed of 155 knots at sea level.
Until December 2005 series was S-76C+ in production, which is equipped with Turboméca Arriel 2S1 engines with FADEC. Improved the cockpit was continued to equip with a EFIS suite from Honeywell. The tail rotor could be made quieter by modification. For comfort increase active noise and vibration dampers are used. The main rotor is now manufactured from composite materials.
Since 3 January 2006 the certified S-76 C++ has the more efficient Turboméca Arriel 2S2, an intake air filter, an improved and quieter transmission as well as changes of detail at the interior equipment and electronics. Altogether for the machine 92 orders of (1/2006).
For 2008, the newest variant, the S-76D is planned, to bring on the market.
Variants
Civil
S-76 MkII, strengthened engines, detail improvements
S-76A, 284 manufactured (large number modified to A+)
S-76A+, later equipped with Turboméca Arriel 1S, 17 manufactured
S-76B, engine Pratt & Whitney Canada PT6B36, 101 built
S-76C, engine Turboméca Arriel 1S1, 43 manufactured
S-76C+, 35 manufactured
S-76C++, Turboméca Arriel 2S2
S-76D
Military
AUH-76 - from the S-76 Mk. II military version developed.
H-76 Eagle,
H-76N planned Navy version of 1984, not implemented
Experimental derivitives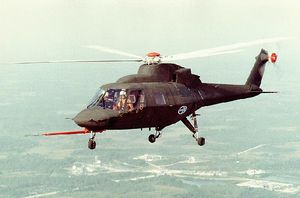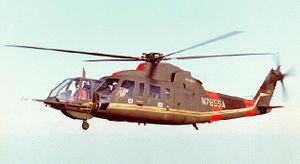 Sikorsky S-75 - The Advanced Composite Airframe Program (ACAP) was an all-composite Sikorsky early LHX proof of concept aircraft. Composite materials were used to replace metal to provide greater strength, lighter weight, lower manufacturing costs, and reduce maintenance costs.[1]
Sikorsky S-76 SHADOW - Boeing-Sikorsky MANPRINT study. The original concept of the LHX program was to produce a one-man helicopter that could do more than a two-man aircraft. The Sikorsky (S-76) Helicopter Advance Demonstrator of Operators Workload (SHADOW) had a single-pilot advanced cockpit grafted to its nose. The purpose was to study the MANPRINT or human engineering interface between the pilot and the cockpit controls and displays. The cockpit was the prototype of a single-pilot cockpit designed for use on the prototype RAH-66 Comanche armed reconnaissance helicopter. The cockpit was designed so sensors would feed data to the pilot through helmet mounted displays. The MANPRINT study determined that single-pilot operation of the Comanche was unsafe, and would result in pilot overload. As result of this study, the Comanche was designed to be operated by a crew of two.[1]
Operators
The S-76 is in use around the world with airlines, corporations, hospital, government operators and, notably, the British Royal Family. The first flight was conducted by Nick Lappos and John Dixson, Sikorsky Test Pilots, on March 13, 1977. The world's largest civilian fleet (59) of Sikorsky S-76 helicopters is operated by CHC Helicopter Corporation.
Other operators include:
Military Operators
Disasters
Specific accidents
Specifications (Sikorsky S-76C++)
General characteristics
Crew: Minimum 2 pilots
Capacity: 12 passenger
Length: 52 ft 6 in (16.0 m)
Rotor diameter: 44 ft 0 in (13.41 m)
Height: 14 ft 5.8 in (4.414 m)
Disc area: ft² (m²)
Empty weight: 7,005 lb (3,177 kg)
Loaded weight: 11,700 lb (5,306 kg)
Max takeoff weight: 11,700 lb (5,306 kg)
Powerplant: 2× 2 x Turboméca Arriel 2S1 turboshafts -700 free-turbine turboshafts, hp (kW) each
Performance
Maximum speed: mph (155 knots, 287 km/h)
Ferry range: 345 nm w/ 30 minute reserve (639 km w/ 30 minute reserve)
Popular culture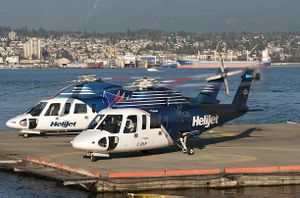 In 1984, the CBS television series Airwolf featured a modified Sikorsky S-76 as an adversary gunship in the episode "HX-1".
References
External links
Related content
Related development

Comparable aircraft

Designation sequence

Related lists