Rutan Quickie
From PlaneSpottingWorld, for aviation fans everywhere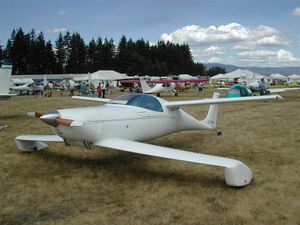 The Quickie is a light homebuilt aircraft designed by Burt Rutan, Tom Jewett, and Gene Sheehan. Produced in kit form, and marketed by the Quickie Aircraft Corporation (founded by Jewett and Sheehan), over 2000 kits were sold before production ended. One of the dozens of unconventional aircraft penned by Rutan for the general aviation market, the original Quickie is Model 54 in Rutan's design series.
Appearing at first glance to be a modified biplane or canard design, the Quickie is in fact a tandem wing aircraft; both the front and rear wings are full airfoils. The forward wing is technically a canard, fitted with elevators, but it provides about 60% of the lift. The design has no horizontal tail, as all pitch control comes from the forward canard. Highly efficient, and of composite construction, the Quickie is a typically radical Rutan aircraft.
Development
Variants
There are three main versions of Rutan's design. The Quickie has one seat and is powered by a 20 horsepower (15 kW) engine. The Quickie Q2 has a 64 horsepower (48 kW) Volkswagen engine and seats two side by side, while the Q200 (also seating two) is faster than the Q2 with a 105 horsepower (78 kW) Continental O-200 engine and uses a different airfoil for the canard. Both the Q2 and the Q200 can be constructed as Tri-Qs, featuring tricycle rather than conventional landing gear.
Specifications (Quickie Q2)
Data from QuickieBuilders[1] and Western Canada Aviation Museum[2]
General characteristics
Crew: one pilot
Capacity: one passenger
Length: 19 ft 10 in (6.05 m)
Wingspan: 16 ft 8 in (5.08 m)
Height: 4 ft 5 in (1.35 m)
Wing area: 67 ft² (6.22 m²)
Empty weight: 490 lb (222 kg)
Useful load: 510 lb (231 kg)
Max takeoff weight: 1,000 lb (454 kg)
Powerplant: 1× Revmaster 2100-DQ converted auto-engine, 64 hp (47.7 kW) at 3,200 rpm
Performance
Gallery
External links
References
Related content
Comparable aircraft

Designation sequence
Rutan Aircraft Factory Model 33 - 35 - 40 - 54 - 61 - 68 - 73
See also