PZL-Mielec M-18 Dromader
From PlaneSpottingWorld, for aviation fans everywhere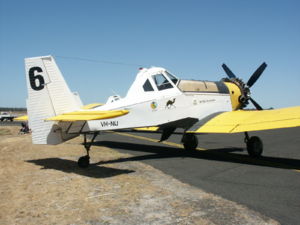 The PZL-Mielec M-18 Dromader (Polish: "Dromedary") is a single engine agricultural aircraft that is manufactured by PZL in Poland. The aircraft is used mainly as a cropduster or firefighting machine.
Development
PZL-Mielec, then known as WSK-Mielec, began to design the Dromader in the mid 1970s, with help of United States aircraft manufacturer Rockwell International. PZL-Mielec asked for Rockwell's help because of the political situation at the time: operating in an Eastern Bloc country, PZL wanted the aircraft to sell well worldwide, and the company realized that FAA certification would be important in reaching that goal. Rockwell on the other hand wanted to fit Polish high-power radial engines into its agricultural planes. This co-operation meant that the Dromader shares outer wing panels and part of hull with the Rockwell Thrush Commander.
The first prototype of the aircraft flew on August 27 1976. In September 1978, the aircraft was given certification to fly in Poland. Certifications from many countries around the world followed soon.
Many aircraft of the M-18 type and its variations can still be seen around the world. They were sold to 24 countries, 200 are used in the USA.
Most Dromaders are easy to distinguish because of their yellow color. Over 740 had been built by 2006. Currently (2006) models M-18B and M-18BS are offered by PZL-Mielec.
Variants
M-18 - original one-seat production version, now available for special orders only.
M-18B - refined version of M-18A with increased capacity, flown in 1993.

M-18BS - two-cockpit trainer.
M-18C - version with more powerful 895 kW (1,200 hp) Kalisz K-9 engine. Flown in 1995 but not produced.
M-21 Dromader Mini - smaller variant (1100 kg of chemicals), flown in 1982, not produced.
M-24 Dromader Super - bigger variant (2000 kg of chemicals), flown in 1987, not produced.
M-25 Dromader Mikro - smaller variant (500 kg of chemicals), sketch only.
Specifications (M-18B Dromader)
General characteristics
Crew: one, pilot
Capacity: one passenger, and up to 2,200 l (581 US gallons) or 1,900 kg (4,180 lb) of chemicals
Length: 9.47 m (31 ft 1 in)
Wingspan: 17.70 m (58 ft 1 in)
Height: 3.70 m (12 ft 2 in)
Wing area: 40 m² (430 ft²)
Empty: 2,710 kg (5,975 lb)
Loaded: kg ( lb)
Maximum takeoff: 5,300 kg (11,700 lb)
Powerplant: 1x WSK "PZL-Kalisz" ASz-62IR-M18 piston radial, 745 kW (1,000 hp)
Performance
Maximum speed: 225 km/h (141 mph)
Range: 1,000 km (625 miles)
Service ceiling: 4,000 m (13,100 ft)
Rate of climb: 390 m/min (1,280 ft/min)
Wing loading: kg/m² ( lb/ft²)
Power/Mass: kW/kg ( hp/lb)
Related content
Related development
Rockwell Thrush Commander Comparable aircraft
PZL-106 Kruk Designation sequence
M-15 - M-18 M-21 - M-24 - M-25 -
External links