PB4Y Privateer
From PlaneSpottingWorld, for aviation fans everywhere
The Consolidated PB4Y-2 Privateer was a United States Navy patrol bomber derived from the Consolidated B-24 Liberator. The Navy had been using unmodified B-24s under the name PB4Y-1 Liberator, and the type was considered very successful. However, a fully navalized design was desired, and Consolidated developed a dedicated, long-range patrol bomber in 1943 — the PB4Y-2 Privateer.[1] In 1951 the family was redesignated P4Y-2 Privateer.
Development
The Privateer is outwardly quite similar to the Liberator. It is slightly longer, and has a tall single vertical tail rather than the B-24's twin tail configuration. Earlier, Ford (which produced B-24s for the U.S. Army Air Corps) had built an experimental variant – the B-24K – using the single tail of a B-23 Dragon.[2] Handling was improved, and the Air Corps' proposed B-24N production model was to be built by Ford; the orders, however, were cancelled May 31, 1945 and the B-24N never entered production. The Navy's desire for substantial redesigns, however, brought the new tail assembly within reason.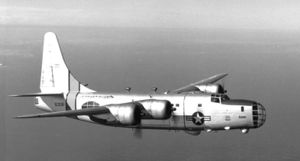 During development, the defensive armament was also increased by adding a second Martin dorsal turret and a pair of ERCO waist blisters. The Navy eventually took delivery of 739 Privateers, many of which flew in the Korean War. All Navy PB4Y-2s were retired by 1954, though several Privateers served until 1958 in Coast Guard service before being auctioned off for salvage.
Although in 1951 the family was redesignated P4Y-2 Privateer, the P4Y-1 was an earlier twin engine flying boat, the Consolidated Model 31 (also called the XP4Y).
P4Y-2K to QP-4B in 1962
PB4Y-2 were still being used as drones in the 1950s/early 1960s, designated PB4Y-2K initially and then P4Y-2 based names after 1951. They were then redesignated QP-4B under the 1962 United States Tri-Service aircraft designation system, part of the new patrol series, between the P-2 Neptune and the P-3 Orion.
Privateers as slurry bombers
A limited number of refitted PB4Ys continued in civilian service as slurry bombers, dropping fire retardant on forest fires throughout the Western United States. On July 18, 2002, one such refitted PB4Y, BuNo 66260 operated by Hawkins and Powers Aviation of Wyoming, broke up in flight while fighting a wildfire near Rocky Mountain National Park. Both crew members were killed in the accident, and the FAA temporarily grounded all slurry bombers in the region.[3] Following the accident, all remaining Privateers were retired.
Operators
Specifications (PB4Y-2)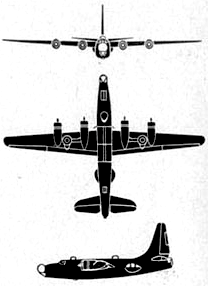 Data from Jane's Fighting Aircraft of World War II[4]
General characteristics
Crew: 11: two pilots, navigator, bombardier, five gunners, two radio operators
Length: 74 ft 7 in (22.73 m)
Wingspan: 110 ft 0 in (33.53 m)
Height: 30 ft 1 in (9.17 m)
Wing area: 1,048 ft² (97.4 m²)
Empty weight: 27,485 lb (12,467 kg)
Max takeoff weight: 65,000 lb (29,500 kg)
Powerplant: 4× Pratt & Whitney R-1830-94 radial engines, 1,350 hp (1,010 kW) each
Performance
Armament
References
External links
Related content
Related development

Comparable aircraft

Designation sequence

Related lists

de:Consolidated PB4Y fr:PB4Y Privateer pl:Consolidated PB4Y-2 Privateer