PlaneSpottingWorld welcomes all new members! Please gives your ideas at the Terminal.
P-26 Peashooter
From PlaneSpottingWorld, for aviation fans everywhere
The Boeing P-26, nicknamed the "Peashooter", was the first all-metal production fighter aircraft and the first pursuit monoplane used by the United States Army Air Corps. The prototype first flew in 1932, and were used as late as 1941 in the Philippines.
The Boeing-funded project to produce the Boeing Model 248 began in September 1931, with the Army Air Corps supplying engines and instruments. The design included an open cockpit, fixed landing gear, and externally-braced wings. The Army Air Corps contracted for three prototypes, designated XP-936, with the first flight on 20 March 1932.
The Boeing XP-936 had a landing problem. Sometimes when landing it would flip forward and because of the short nose it would roll onto its back. This injured many pilots until the unarmored back canopy was replaced with an armored headrest.
Boeing then received an order for 111 of the production version (Model 266), officially designated P-26A, which included an improved wing structure and a radio. The first production P-26A flew on 10 January 1934, and the last of the production run was delivered in June.
An additional 25 aircraft were completed as P-26B with Pratt & Whitney R-1340-33 Wasp engines, and 23 P-26C had minor changes to carburation and the fuel system.
Eleven more P-26s, Model 281, were built for China, and one for Spain.
The P-26 was the last Boeing fighter to enter service until the F/A-18E/F Super Hornet in 2002. Between those aircraft, Boeing did produce the experimental XF8B in 1944 as well as the prototype YF-22 in 1991.
Survivors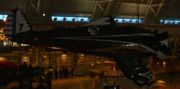 Two original P-26 are known to exist. One is in the collection of the National Air and Space Museum, while the other has been owned for many years by the Planes of Fame Museum located in Chino, California. Once flown regularly, the museum's P-26 was placed on static display in the mid 1980's to protect it. In 2004 the decision was made to again fly the P-26, and a restoration was begun to return the plane to flying condition. This was completed in the spring of 2006, with the aircraft having made its first appearances at the museum's May 2006 airshow. A replica P-26 is also on display at the National Museum of the United States Air Force in Dayton, Ohio. In addition, Mayocraft Inc., completed final assembly in Sept., 2006 and has now begun taxi-testing a [1] a near-100 percent scale tribute to the Boeing P-26.
Operators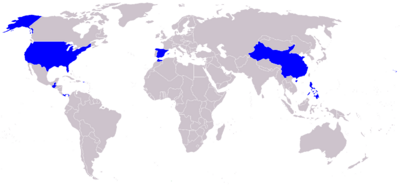 Specifications (P-26A)
Data from Aviation-history.com[1]
General characteristics
Crew: 1
Length: 23 ft 7 in (7.18 m)
Wingspan: 27 ft 12 in (8.50 m)
Height: 10 ft 0 in (3.04 m)
Wing area: ft² (m²)
Empty weight: 2,196 lb (996 kg)
Loaded weight: 3,360 lb (1,524 kg)
Powerplant: 1× Pratt & Whitney R-1340-7 "Wasp" radial engine, 600 hp (440 kW)
Performance
Maximum speed: 234 mph (203 knots, 377 km/h) at 6,000 ft (1,800 m)
Combat radius: 360 mi (310 nm, 580 km)
Ferry range: 635 mi (550 nm, 1,020 km)
Service ceiling: 27,400 (8,350 m)
Armament
Guns: 2× .30 in (7.62 mm) machine guns
Bombs: 1× 200 lb (90 kg) bomb
References
Related content
Comparable aircraft

Designation sequence

Related lists

de:Boeing P-26 fr:Boeing P-26 it:Boeing P-26 pl:Boeing P-26 Peashooter sl:Boeing P-26 Peashooter fi:Boeing P-26 zh:P-26戰鬥機