Consolidated PBY
From PlaneSpottingWorld, for aviation fans everywhere
PBY was the United States Navy designation for an American and Canadian-built flying boat of the 1930s and 1940s. PB stands for Patrol Bomber, with Y being Consolidated Aircraft's manufacturer identification; the name Catalina was given to aircraft in British service. It could be equipped with depth charges, bombs, torpedoes, and .50 Browning machineguns and was one of the most widely used multi-role aircraft of World War II. PBYs served with every branch of the US military and in the air forces and navies of many other nations. In the United States Army Air Forces and later in the USAF their designation was the OA-10, while Canadian-built PBYs were known as Cansos.
Development
Background
In World War II, PBYs were used as anti-submarine warfare aircraft, patrol bombers, convoy escorts, search and rescue aircraft, and transports. The PBY was the most successful aircraft of its kind, as no other flying boat was produced in greater numbers. The last active military PBYs were not retired from service until the 1980s. Even today, over seventy years after its first flight, the aircraft continues to fly as an airtanker in aerial firefighting operations all over the world.
The PBY was originally designed to be a patrol bomber, an aircraft with a long operational range intended to locate and attack enemy transport ships at sea in order to compromise enemy supply lines. With a mind to a potential conflict in the Pacific Ocean, where troops would require resupply over great distances, the U.S. Navy in the 1930s invested millions of dollars in developing long-range flying boats for this purpose. Flying boats had the advantage of not requiring runways to take off and land, in effect having the entire ocean available as its runway. Several different flying boats were adopted by the Navy, but the PBY was the most widely used and produced.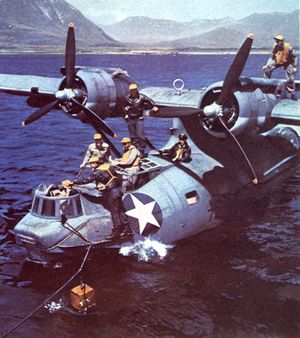 Although slow and ungainly, PBYs distinguished themselves in World War II as exceptionally reliable. Allied armed forces used them successfully in a wide variety of roles that the aircraft was never intended for. They are remembered by many veterans of the war for their role as rescuing aircraft, in which they saved the lives of thousands of aircrew shot down over the Pacific Ocean.
Prototyping
As American dominance in the Pacific Ocean began to face competition from Japan in the 1930s, the U.S. Navy contracted Consolidated Aircraft and Douglas Aircraft Corporation in October 1933 to build competing prototypes for a patrol flying boat.[1] Naval doctrine of the 1930s and 1940s used flying boats in a wide variety of roles that today are handled by multiple special-purpose aircraft. The US Navy had adopted the Consolidated P2Y and Martin P3M models for this role in 1931, but both aircraft proved to be underpowered and hampered by short ranges and low maximum payloads.
Consolidated and Douglas both delivered single prototypes of their designs, the XP3Y-1 and XP3D-1, respectively. Consolidated's XP3Y-1 was an evolution of the XPY-1 design that had originally competed unsuccessfully for the P3M contract two years earlier and of the XP2Y design that the Navy had authorized for a limited production run. Although the Douglas aircraft was a good design, the Navy opted for Consolidated's prototype because the projected cost was only $90,000 per plane.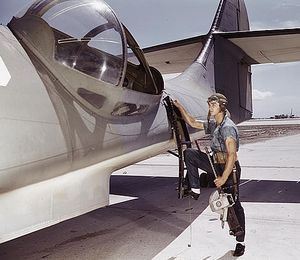 Consolidated's XP3Y-1 design (company Model 28) was revolutionary in many ways. The aircraft had a parasol wing with internal bracing that allowed the wing to be a virtual cantilever, except for two small streamlined struts on each side. Stabilizing floats, retractable to form streamlined wingtips in flight, were another aerodynamic innovation. The two-step hull design was similar to that of the P2Y, but the Model 28 had a cantilever cruciform tail unit instead of a strut-braced twin tail. Cleaner aerodynamics gave the Model 28 improved performance compared to earlier designs.
The powerplant for the prototype was two 825 hp (615 kW) Pratt & Whitney R-1830-54 Twin Wasp engines mounted on the wing's leading edges. Armament comprised four 0.30 in (7.62 mm) Browning machineguns and up to 2,000 lb (907 kg) of bombs.
The XP3Y-1 had its first flight on 28 March 1935 after which it was transferred to the US Navy for service trials. The XP3Y-1 soon proved to have significant performance improvements over current patrol flying boats. The Navy requested further development in order to bring the aircraft into the category of patrol bomber, and in October 1935 the prototype was returned to Consolidated for further work. The work included installation of 900 hp (671 kW) R-1830-64 engines. For the redesignated XPBY-1, Consolidated introduced redesigned vertical tail surfaces. The XPBY-1 had its maiden flight on 19 May 1936, during which a record non-stop distance flight of 3,443 miles (5,541 km) was achieved.
The XPBY-1 was delivered to VP-11F in October 1936. The second squadron to be equipped was VP-12, which received the first of its aircraft in early 1937. The second production order was placed on 25 July 1936. Over the next three years, the PBY design would be gradually improved and successive models introduced.
Model
Production period & distinguishing features
Quantity
PBY-1
September 1936 - June 1937
Original production model.
60
PBY-2
May 1937 - February 1938
Minor alterations to tail structure, hull reinforcements.
50
PBY-3
November 1936 - August 1938
Higher power engines.
66
PBY-4
May 1938 - June 1939
Higher power engines, propeller spinners, acrylic glass blisters over waist guns (some later units).
32
PBY-5
September 1940 - July 1943
Higher power engines (using higher octane fuel), discontinued use of propeller spinners, standardized waist gun blisters.
684
PBY-5A
October 1941 - January 1945
Hydraulically-actuated, retractable tricycle landing gear for amphibious operation. Introduced tail gun position, replaced bow single gun position with bow "eyeball" turret equipped with twin .30 machine guns (some later units), improved armor, self-sealing fuel tanks.[2]
802
PBY-6A
January 1945 - May 1945
Incorporated changes from PBN-1,[3] including a taller vertical tail, increased wing strength for greater carrying capacity, new electrical system, standardized "eyeball" turret, and a radome over cockpit for radar.
175
* An estimated 4,051 Catalinas, Cansos, and GSTs of all variants were produced between June 1937 and May 1945 for the US Navy, USAAF, United States Coast Guard, Allied nations, and civilian customers.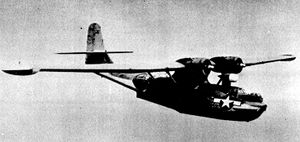 The Naval Aircraft Factory made significant modifications to the PBY design, many of which would have significantly interrupted deliveries had they been incorporated on the Consolidated production lines.[4] The new aircraft, officially known as the PBN-1 Nomad, had several differences from the basic PBY. The most visually apparent upgrades were to the bow, sharpened and extended two feet, and to the tail, which was enlarged and featured a new shape. Other improvements included larger fuel tanks, increasing range by 50%, and stronger wings permitting a 2,000 lb (908 kg) higher gross takeoff weight. An auxiliary power unit was installed, along with a modernized electrical system, and the weapons were upgraded with continuous-feed mechanisms.[4]
The majority (138) of the 156 PBN-1s produced served with the Russian Navy. The remaining 18 aircraft were assigned to training units at NAS Whidbey Island and NAF Newport.[5] Later, improvements found in the PBN-1 – notably, the larger tail – were incorporated into the amphibious PBY-6A.
Distribution to the Allies
Australia
The Royal Australian Air Force ordered its first PBY-5s (named Catalina) in 1940. By the end of the war the RAAF had taken delivery of 168 Catalinas. The RAAF used Catalinas in a wide range of roles including reconnaissance and anti-submarine patrols, offensive mine-laying and air-sea rescue as well as psychological warfare. In addition, RAAF PBYs were used to transport Australian personnel home at the end of the war. The RAAF retired its last Catalina in 1952.[6]
Canada
Canada had its own close associations with the PBY, both as a manufacturer and customer. Under an agreement reached between the Canadian and U.S. governments, production lines were laid down in Canada, by Boeing Aircraft of Canada (as the PB2B-1) in Vancouver, and by Canadian Vickers (PBV-1) at the Canadair plant in Cartierville. Canadian aircraft were known as Cansos.[3] Canadian squadrons flew Cansos on both sides of the North Atlantic, as well as in the Indian Ocean.
New Zealand
From 1942 New Zealand used 56 Catalinas in the South Pacific, to replace the Short Singapore with the Royal New Zealand Air Force's 5 Squadron and 6 Squadron, initially operating out of Hobsonville and Fiji on maritime patrol and air-sea rescue roles. Additional aircraft were used by 490 (NZ) Squadron in the anti submarine role during the battle of the Atlantic. 490 squadron operated Catalinas out of Jui, East Africa, from 1943 until they were superseded by Short Sunderlands in 1944. When Sunderland MR.5s replaced the New Zealand-based Catalinas, two of the ex-RNZAF machines was transferred to TEAL for crew training - one (ZK- AMP) made pioneering air survey flights throughout the Pacific. The last RNZAF Catalinas were retired in 1953 and all had been sold or scrapped by the end of 1956.[1] [2] An airworthy Catalina in 6 Squadron markings is privately owned. [3] The Royal New Zealand Air Force Museum is restoring a former fire training Catalina.
Soviet Union
The Soviet Union had shown an interest, resulting in an order for three aircraft and the negotiation of a licence to build the type in Russia. When these three machines were delivered they were accompanied by a team of Consolidated engineers who assisted in establishment of the Russian production facilities. This aircraft model, designated GST, was powered by two Mikulin M-62 or Shvetsov ASh-621R[7] radial engines of 900 to 1,000 hp (671 to 746 kW). The first GST entered service towards the end of 1939. It is estimated hundreds more served with the Soviet Navy. Russia also received 138 PBN-1 Nomad variant of the Catalina built by the Naval Aircraft Factory in Philadelphia along with 48 PBY-6As under the Lend-Lease Act .
Sweden
Three Canso amphibians, built by Canadian-Vickers, were bought by the Swedish Air Force in 1947. The Swedish designation was Tp 47. After modifications for their new post-war missions, they were based at Wing F2 at Hägernäs near Stockholm and were used mainly for air and sea rescue service. Also reconnaissance missions were flown.
The Tp 47 was equipped with PS-19/A radar. The aircraft had a crew of five and had also room for six stretchers. It was powered by two Pratt & Whitney R-1830-92 Twin Wasp 14-cylinder radial engines of 1.200 hp each. It was unarmed.
United Kingdom
The British Air Ministry purchased a single aircraft for evaluation purposes, the Model 28-5. This was flown across the Atlantic Ocean to the Marine Aircraft Experimental Establishment, Felixstowe, in July 1939. With the outbreak of war anticipated, the trials were terminated prematurely, and an initial 50 aircraft were ordered under as "Catalina I"s. These aircraft were similar to the PBY-5, except for installation of British armament. The name Catalina had been used by Consolidated for their commercial sales prior to the British order, and was eventually adopted by the US Navy on October 1 1941.[3]
Initial deliveries of the Royal Air Force's Catalinas began in early 1941 and these entered service with No. 209 and No. 240 squadrons of Coastal Command. In all, nine squadrons of Coastal Command were equipped with the Catalina, as were an additional 12 squadrons overseas. The total acquisition was approximately 700 spread over the following designations: Catalina Mk I, Mk IA (PBY-5A amphibian in RCAF service only), Mk IB, Mk II, Mk III, Mk IVB (Canadian built PBY-5, the PB2B-1), Mk IV, and Mk VI (a PBN-1 style tall tail version built in Canada). The Catalina Mk Vs, which would have been PBN-1s, were cancelled.
In British service, the Catalina was fitted with .303 machineguns, typically a Vickers K in the bow and [[Browning Model 1919 in the waist. Some received the Leigh light to aid anti-submarine warfare by night.
Between 1940 and 1945, seven former RAF examples were used by BOAC (two for a Poole to Lagos service) and Qantas (five for a Ceylon to Perth service).
Operational History
Roles in World War II
The final construction figure is estimated at around 4,000 aircraft, and these were deployed in practically all of the operational theaters of World War II. The PBY served with distinction and played a prominent and invaluable role in the war against the Japanese. This was especially true during the first year of the War in the Pacific, because the PBY and the Boeing B-17 Flying Fortress were the only two available aircraft with the range necessary. As a result they were used in almost every possible military role until a new generation of aircraft became available.
Anti-submarine warfare
PBYs were the most extensively used ASW aircraft in both the Atlantic and Pacific Theaters of the Second World War. One of their jobs was escorting convoys to Murmansk. By 1943, U-boats were well armed with anti-aircraft guns and two Victoria Crosses were won by PBY skippers pressing home attacks on U-boats in the face of heavy fire: John Cruickshank in 1944 against U-347 and in the same year Flight Lt. David Hornell RCAF (posthumously) against U-1225. Catalinas destroyed 40 U-boats in total but suffered losses of their own. On December 7, 1941, Mitsubishi A6M fighters from Akagi attacked NAS Kaneohe Bay at Oahu, Hawaii, destroying or disabling all of the 33 PBYs stationed there.
Maritime patrol
In their role as patrol aircraft, Catalinas participated in some of the most notable engagements of World War II. The aircraft's parasol wing and large waist blisters allowed for a great deal of visibility; this, combined its long range and endurance, made it well suited for the task.
A Coastal Command Catalina with a USN commander among the British crew which located the German battleship Bismarck on May 26, 1941 while she tried to evade Royal Navy forces.[8]
A flight of Catalinas spotted the Japanese fleet approaching Midway Island, beginning the Battle of Midway.[9]
An RCAF Canso flown by Squadron Leader L.J. Birchall foiled Japanese plans to destroy the Royal Navy's Indian Ocean fleet on April 4, 1942 when it detected the Japanese carrier fleet approaching Ceylon (Sri Lanka).[10]
Several squadrons of PBY-5As and -6As in the Pacific theater were specially modified to operate as night convoy raiders. Outfitted with state-of-the-art magnetic anomaly detection gear and painted flat black, these "Black Cats" attacked Japanese supply convoys at night. Catalinas were surprisingly successful in this highly unorthodox role.[11] Between August 1943 and January 1944, Black Cat squadrons had sunk 112,700 tons of merchant shipping, damaged 47,000 tons, and damaged 10 Japanese warships. The Royal Australian Air Force also operated Catalinas as night raiders, with RAAF aircraft mounting mine-laying operations deep into Japanese-held waters. The RAAF also occasionally used Catalinas to mount nuisance night bombing raids on Japanese bases, including the major base at Rabaul. RAAF aircrews developed 'terror bombs', essentially empty tin cans filled with blunt razor blades. The high pitched screams of these falling tins would keep Japanese soldiers awake and in fear of their life.
Search and rescue
PBYs were employed by every branch of the US military as rescue aircraft. PBYs continued to function in this capacity for decades after the end of the war.
Post-WWII Employment
With the end of the war, flying boat versions were quickly retired from the U.S. Navy, but amphibians remained in service for many years. The last Catalina on active U.S. service was a PBY-6A operating with a Naval Reserve squadron, retired 3 January 1957.[1] It must be noted a PBY was being maintained at Clark Air Base, Republic of the Philippines, as late as 1968. The PBY subsequently equipped the world's smaller armed services, in fairly substantial numbers, into the late 1960s.
The USAF Strategic Air Command had PBYs (OA-10s) in service from 1946 through 1947.
Jacques-Yves Cousteau used a PBY-6A (N101CS) as part of his diving expeditions. His second son, Philippe, was killed while attempting a water landing in the Tagus river near Lisbon, Portugal, June 28 1979. His plane had just been repaired when he took it out for a flight. As he landed, one of the plane's propellers separated, cut through the cockpit and killed the younger Cousteau.
Of the few dozen remaining airworthy Catalinas, the majority are in use today as aerial firefighting planes.
China Airlines, the official airline of Republic of China (Taiwan) was founded with two PBY amphibians.
Catalina affair
The Catalina Affair is the name given to a Cold War incident in which a Swedish military Catalina was shot down by Soviet aircraft over the Baltic Sea in June 1952 while investigating the earlier crash of a Swedish Douglas DC-3.
Operators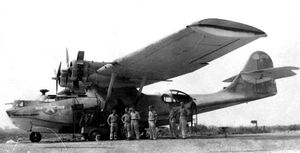 Specifications (PBY-5A)
Template:Aircraft specification
References
Notes
Bibliography
Creed, Roscoe. PBY: The Catalina Flying Boat. Annapolis, MD: US Naval Institute Press, 1986. ISBN 0-87021-526-4.
Crocker, Mel. Black Cats and Dumbos: WW II's Fighting PBYs. Crocker Media Expressions, 2002. ISBN 0-97129-010-5.
Dorney, Louis B. US Navy PBY Catalina Units of the Pacific War. Botley, Oxford, UK: Osprey Publishing, 2007. ISBN 1-84176-911-8.
Hendrie, Andrew. Flying Cats: The Catalina Aircraft in World War II. Annapolis, MD: US Naval Institute Press, 1988. ISBN 0-87021-213-3.
Kinzey, Bert. PBY Catalina in Detail & Scale. Carrollton, TX: Squadron/Signal Publications, Inc., 2000. ISBN 1-88897-419-2.
Knott, Richard C. Black Cat Raiders of World War II. Annapolis, MD: US Naval Institute Press, 2000. ISBN 1-55750-471-7.
Legg, David. Consolidated PBY Catalina: The Peacetime Record. Annapolis, MD: US Naval Institute Press, 2002. ISBN 1-55750-245-5.
Ragnarsson, Ragnar. US Navy PBY Catalina Units of the Atlantic War. Botley, Oxford, UK: Osprey Publishing, 2006. ISBN 1-84176-910-X.
Scarborough, William E. PBY Catalina in Action (Aircraft number 62). Carrollton, TX: Squadron/Signal Publications, Inc., 1983. ISBN 0-89747-149-0.
Scarborough, William E. PBY Catalina - Walk Around. Carrollton, TX: Squadron/Signal Publications, Inc., 1996. ISBN 0-89747-357-4.
Wagner, Ray. The Story of the PBY Catalina (Aero Biographies Volume 1). San Diego, CA: Flight Classics, 1972.
External links
See also

Related development

Comparable aircraft

Designation sequence

Consolidated
Related lists

Template:USN patrol aircraft Template:USAAF observation aircraft Template:Consolidated aircraft
cs:Consolidated PBY Catalina da:Catalina de:Consolidated PBY fr:PBY Catalina it:Consolidated PBY Catalina he:PBY קטלינה nl:Consolidated PBY Catalina ja:PBY (航空機) no:Consolidated PBY Catalina pl:Consolidated PBY Catalina pt:Consolidated PBY Catalina ru:Consolidated PBY Catalina fi:PBY Catalina sv:Consolidated Model 28 Catalina