C-23 Sherpa
From PlaneSpottingWorld, for aviation fans everywhere
The Short C-23 Sherpa is a small transport aircraft built by Short Brothers. The C-23A and C-23B variants was based on the Short 330. The Short 360 derivative was modified to become C-23B+ and C-23C variants.
Design and Development
The Short 330 was developed by Short Brothers of Belfast from Short's earlier Short Skyvan STOL utility transport. The 330 had a longer wingspan and fuselage than the Skyvan, while retaining the Skyvan's square shaped fuselage cross section, allowing it to carry up to 30 passengers while retaining good short field characteristics.[1] The 330 entered commercial service in 1976.
In addition to the passenger aircraft, the Shorts also planned two freight versions. The first of these, the Short 330-UTT (for Utility Tactical Transport) was a military transport version fitted with a strengthened cabin floor, and paratroop doors,[2] which was sold in small numbers, primarily to Thailand, who purchased four. The Short Sherpa was a freighter fitted with a full width rear cargo door/ramp. This version first flew on 23 December 1982,[2] with the first order, for 18 aircraft, being placed by the United States Air Force in March 1983, for the European Distribution System Aircraft (EDSA) role, to fly spare parts between USAF air bases within Europe.[2]
In U.S. military service, the Short 330 was designated the C-23A Sherpa. The C-23B Sherpa was similar to the C-23A, but with cabin windows.[3] The Short 360 derivative was modified by replacing the rear fuselage of the Shorts 360, with its single tall fin, with the twin tail and rear loading ramp of the Short Sherpa. The modified Short 360 was designated C-23B+ and C-23C.
The C-23 was produced at the Short Brothers' facility in Belfast, Northern Ireland for the U.S. Dept. of Defense and the Royal Air Force.[4]
Operational history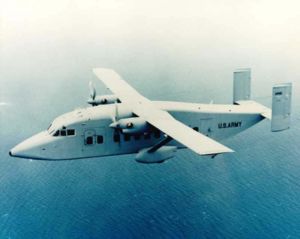 The C-23A Sherpa entered USAF service in 1985[4] and continuing in use in the EDSA role until 1990, when the EDSA role was disbanded. Six aircraft were passed to the United States Army, where they were used to support the Army National Guard, joining 10 new build C-23B Sherpa aircraft.[3] Other variants are C-23B+ and C-23C. The C-23 replaced the UV-18 Twin Otter in U.S. service. The C-23 is the only cargo plane operated by the U.S Army.[4]
During Iraq War, 2003-present, the C-23 has served the Army's intra-theater needs of cargo and personnel transport. It provides an economic alternative for transporting some 20 people or 3 pallets of cargo when speed is not critical.[5]
On 13 June 2007, the Alenia C-27J was selected to replace the C-23 in US Army service.[6][7]
Variants
Short 330-UTT

C-23A Sherpa

C-23B Sherpa

C-23B+/C Super Sherpa
Operators
Specifications
C-23A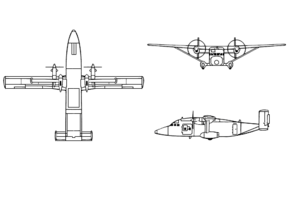 Data from Jane's All the World's Aircraft, 1988-1989[2]
General characteristics
Performance
C-23B/C
Data from U.S. Army Aircraft Since 1947[8]
General characteristics
Performance
References
External links

Related content
Related development

Comparable aircraft

See also
Template:US transport aircraft