Bombardier Global Express
From PlaneSpottingWorld, for aviation fans everywhere
The Bombardier BD-700 Global Express is an ultra long range corporate and VIP high speed jet which has also been modified for military missions.
Bombardier began studies in 1991 and the aircraft was officially launched in 1993. First flight occurred on October 13 1996.
Global Express
The Global Express can fly intercontinental ranges without refuelling (e.g. New York - Tokyo) or between any two points in the world with only one stop. In this class the Global Express competes with the Airbus Corporate Jet, Boeing Business Jet and Gulfstream V.
Bombardier subsidiaries have three specific roles in the project, Canadair is the design leader and manufactures the nose; Shorts, Belfast is responsible for the design and manufacture of the engine nacelles, horizontal stabiliser and forward fuselage; and de Havilland, Canada builds the rear fuselage and vertical tail and carries out final assembly. The major external supplier is Japan's Mitsubishi Heavy Industries which builds the wing and centre fuselage sections.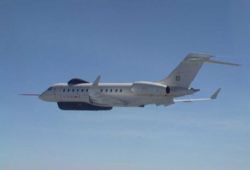 The powerplant of the Global Express is the Rolls-Royce BR710.
Top cruise: 0.89 mach
Cruise: 0.85 mach
Range: 12,500 km (6700 nau.mi.)
Ceiling: 51,000 ft
Sentinel R1
The military version of the Global Express is the Sentinel R1 of the Royal Air Force. The Sentinel carries the Raytheon Airborne Stand-Off Radar (ASTOR) and provides battlefield surveillance, similar to the United States Air Force JSTARS aircraft. The aircraft was selected due to the operating ceiling, 51,000ft. Due to the modifications of the RAF aircraft, including fairings for the radar and SATCOM antennas, the Sentinel's ceiling is reduced from this maximum but is still higher than the Boeing 707 which carries the JSTARS radar. This height advantage allows a wider area to be searched.
Global Express XRS
The Global Express XRS is an improved version of the original aircraft, offering higher cruise speed, increased range, improved cabin layout and lighting. It is reported that the letters have no significance, but were chosen by focus groups simply to improve the brand image. The range increase is achieved by addition of a 1,486 lb (674 kg) fuel tank at the wing root. The Global Express XRS is scheduled to enter service in early 2006. The unit price is estimated at $45.5 million (US). Bombardier claims it will be quicker to fuel the XRS due to improved computer systems and mechanical refinements, a saving of 15 minutes is expected.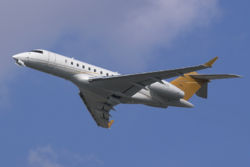 The Global 5000 is a shortened version of the Global Express XRS.
Specifications
General characteristics
Crew: 2-4 (min, typical)
Capacity: 8-19 passengers
Length: 99 ft 5 in (30.30 m)
Wingspan: 94 ft 0 in (28.65 m)
Height: 24 ft 10 in (7.57 m)
Cabin lengh: 48 ft 4 in (14.73 m)
Cabin max width (centerline): 8 ft 2 in (2.49 m)
Cabin max width (floorline): 6 ft 11 in (2.11 m)
Cabin height: 6 ft 3 in (1.91 m)
Cabin floor area: 335 ft² (31.1 m²)
Wing area: 1,022 ft² (94.9 m²)
Empty: 49,750 lb (22,600 kg)
Payload (w/full fuel): 1,775 lb (805 kg)
Maximum takeoff: 98,000 lb (44,500 kg)
Powerplant: 2 Rolls-Royce Deutschland BR710A2-20 turbofans, 14,750 lbf (65.5 kN) thrust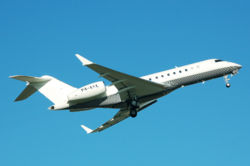 Performance
Maximum cruise speed: 950 km/h (590 mph) Mach .89
Typical cruise speed: 904 km/h (562 mph, 488 knots) Mach .85
Range (at typical cruise): 5,325 nm (11,390 km (7,080 mi)
Service ceiling: 51,000 ft (15,500 m)
Rate of climb: 1433 ft/min (436 m/min)
Wing loading: 95.9 lb/ft² (468 kg/m²)
Thrust/weight: 0.301
Balanced field length (SL, ISA, MGTOW): 6,120 ft (1,870 m)
Landing distance (SL, ISA, MLW): 2,670 ft (814 m)
Owners
Notable Global Express owners include:
See also
External links