Boeing Skyfox
From PlaneSpottingWorld, for aviation fans everywhere
The Boeing Skyfox was a program to modify aging Lockheed T-33 jet trainers into a moderized, twin-engine aircraft. Besides its primary role as a trainer, the aircraft was envisioned to have other roles as well, including ground attack. The program was started by the Skyfox Corporation in 1983, and was acquired by Boeing in 1986. Only one prototype aircraft was built, and the program was later cancelled due to lack of customers.
History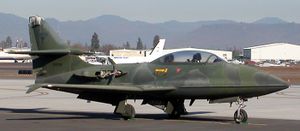 Over 6,500 Lockheed T-33 trainers were built, making it one of the most successful jet trainer programs in history. However, technology passed the "T-Bird" by, and by the 1980s, it was clear that the world's air forces needed a more modern training aircraft. T-33 designer Irvin Culver and a number of other former Lockheed employees formed Flight Concepts Incorporated in 1982, with the intent of modernizing the T-33 design. The company's name was later changed to Skyfox Corporation.
The highly modified and modernized aircraft was expected to cost about half of a new comparable trainer, such as the British Aerospace BAE Hawk and the Dassault-Breguet/Dornier Alpha Jet. With the design work done, Skyfox purchased 80 surplus T-33s. The first one converted was ex-Canadian Armed Forces CT-133 (the Canadian license-built equivalent of the T-33), serial 21160. It carried the U.S. civilian registration number of N221SF. After conversion to the Skyfox configuration, first flight was performed on August 23, 1983 by renown race pilot Skip Holm at the Mojave Airport.
Skyfox Corp was not able to find any buyers for the aircraft, despite its price and capability. However, in 1986, Boeing Military Aircraft Company saw potential, and purchased the marketing and production rights. Even though Portugal signed a letter of intent for 20 conversion kits, no other nation signed on, and with a lack of customers, Boeing cancelled the project. The prototype aircraft remains the only Skyfox built. As of February 2007, the prototype is parked on the flightline at Rogue Valley International (MFR) in Medford, OR. The engines are not mounted on the pylons, but there is no external damage that would appear to make the aircraft unairworthy.
Configuation
The Skyfox was marketed either as a complete converted aircraft from Boeing, or as a conversion kit, with the customer providing the T-33 airframe. The conversion incorporated about 70% of the existing T-33 airframe, but replaced the existing internal single Allison J33 turbojet engine with two Garrett TFE731-3A turbofan engines mounted externally. Together, the two TFE731s weighed 17% less than the single original engine, provided 60% more thrust on 45% less fuel.
The engine change provided a large internal volume for fuel storage, eliminating the need for the T-33's tip tanks (although the tip mountings were retained to provide for optional auxiliary fuel tanks if desired).
The Skyfox used an aerodynamically improved nose and tail, although the original wings were retained.
Specifications
General characteristics
Crew: 2
Capacity: 2
Length: 46ft 0in (13.41m)
Wingspan: 38ft 10in (11.83m)
Height: 12ft 4in (3.76m)
Empty weight: 10284lb (3856kg)
Loaded weight: lb (6532kg)
Useful load: lb (kg)
Max takeoff weight: 20000lb (7364kg)
Performance
Armament
2700kg
References