PlaneSpottingWorld welcomes all new members! Please gives your ideas at the Terminal.
Boeing P-12
From PlaneSpottingWorld, for aviation fans everywhere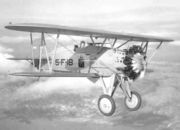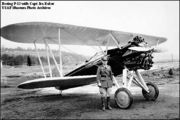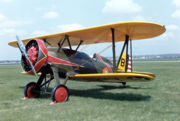 The Boeing P-12 was an American pursuit aircraft that was operated by the United States Army Air Corps. Boeing Aircraft Company supplied the USAAC with 366 P-12's between 1929 and 1932. The United States Navy also operated this aircraft under the name of F4B.
P-12s were flown by the 17th Pursuit Group (34th, 73rd, and 95th Pursuit Squadrons) at March Field, California, and the 20th Pursuit Group (55th, 77th and 79th Pursuit Squadrons) at Barksdale Field, Louisiana. Older P-12s were used by groups overseas: the 4th Composite Group (3rd Pursuit Squadron) in the Philippines, the 16th Pursuit Group (24th, 29th , 745h, and 79th Pursuit Squadrons) in the Canal Zone], and the 18th Pursuit Group (6th and 19th Pursuit Squadrons) in Hawaii.
The P-12 remained in service with first-line pursuit groups until replaced by Boeing P-26s in 1934-35. Survivors were relegated to training duties until 1941, when most were grounded and assigned to mechanics's schools. A surviving P-12E is on display at the National Museum of the United States Air Force at Wright-Patterson AFB near Dayton, Ohio.
Specifications (P-12E)
Length: 20 ft 4 in (6.19 m)
Span: 30 ft 0 in (9.14 m)
Height: 9 ft 0 in (2.74 m)
Engine: Pratt & Whitney R-1340-17 of 500 hp (373 kW)
Armament: Two .30-cal (7.62 mm) machine guns or one .30-cal (7.62 mm) and one .50-cal (12.7 mm); 244 lb (111 kg) of bombs carried externally.
Maximum speed: 189 mph (304 km/h)
Cruising speed: 160 mph (257 km/h)
Range: 570 miles (917 km)
Maximum weight: 2,690 lb (1,220 kg)
Operators
External links
Designation sequence

1924-1948 USAAC/F:
1922-1962 USN
Related lists