Diamond D-Jet
From PlaneSpottingWorld, for aviation fans everywhere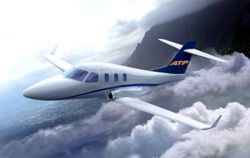 The D-Jet is a composite, five-seat, single-engine jet aircraft produced by Diamond Aircraft Industries. It is currently undergoing flight testing, with deliveries expected to begin in 2008 at a cost of US$1.38 million.
Production and marketing
Diamond has targeted the aircraft at the owner-pilot market, seeing it as more practical for single-pilot operations than the Eclipse 500 and the Cessna Citation Mustang. By limiting the altitude to 25,000 feet, it will be safer if pressurization fails. Diamond intends the D-Jet to have a lower operating cost than other very light jets.
On November 9, 2006, at the AOPA Expo in Palm Springs, CA, Diamond announced that Airline Transport Professionals (ATP) placed the first fleet order of 20 Diamond D-JETs. ATP will provide factory-approved training to D-JET purchasers beginning in 2008.
Flight testing and certification
The first flight of the D-Jet was made on April 18, 2006, with the aircraft's public debut coming at Oshkosh in 2006. After completion of flight testing, Diamond expects full certification in early 2008 with deliveries starting in the second quarter of 2008.
Specifications
General
Length: 35.1 feet
Heigh: 11.7 feet
Wing Span: 37.6 feet
cabin seating: 5 (two cockpit, three passengers)
Pressurization: 5.5 psi
Weights
Useful load: 2,240 lbs
Ramp Weight: 5,110 lbs
Maximum fuel: 1,740 lbs
Performance
Maximum cruise speed: 315 knots
Long range cruise speed: 240 knots
Ceiling: 25,000 feet
Maximum range: 1350 nautical miles
time to climb to 25,000 feet: 15 minutes
Related
External Links
Official site
Airline Transport Professionals