Australian International Airshow
From PlaneSpottingWorld, for aviation fans everywhere
Australian International Airshow is a large airshow held every two years at Avalon Airport near Geelong, Australia. It has been said by air show organisers to be the largest airshow in the southern hemisphere. It regularly features planes from the United States Air Force.
<googlemap lat="-38.034774" lon="144.473562" zoom="13" controls="large"> -38.029663, 144.474937, Avalon Airport Terminal, Victoria, Australia </googlemap>
History
The airshow began in 1989 when Airshows Down Under was formed, after the 1988 Bicentennial of Australia.
1992
The 1992 Avalon airshow, held in October, more commonly known as the Avalon 'Boat Show' after heavy rains almost washed Avalon off the map. The flight display line was perpendicular to the runway.
1995
The 1995 Avalon airshow held March 21-26
1997
The 1997 Avalon airshow was held on 18 - 23 February, with an attendance of 171,168 and a $63 million contribution to the Victorian economy. [1]
1999
There were 472 exhibitors from 26 countries in 1999, which included a huge B-52 bomber. It was opened by Victorian Premier Jeff Kennett on 16 February 1999.
2001
It was held on 11-17 February 2001, which celebrated Australia's 100 years of federation and 80 years of the Royal Australian Air Force. About 100 United States Air Force pilots took part in the airshow in 2001. Planes included were a B-1, two F-15s, two F-16s, a B-52 and a C-17.
2003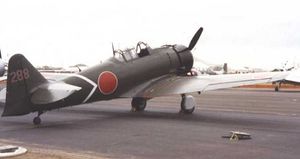 In 2003, there were 440 exhibitors from 30 countries. There were more than six hundred aircraft on the field. The central theme was the Centenary of Flight dating from the Wright brothers at Kitty Hawk. It included replicas from the early 20th century, such as a 1910 Hanriot replica and 1911 Curtiss Model D Pusher replica. There were also Tiger Moths, Sopwith Pup, Bleriot XI and a scale version of a Wright Flyer B and other similar aircraft. For jets it had a MiG-15, Meteor and Vampire. Some American planes such as the F-117 had been cancelled, due to possible anti-war protests. There was a model made of wood and fibreglass of an F-35. A Chinese military delegation was given a tour of the airshow.
2005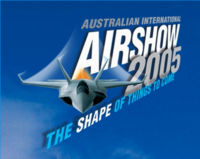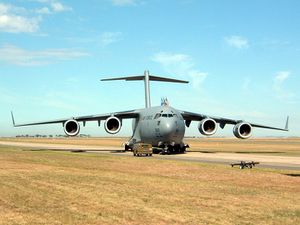 The theme in 2005 was "The Shape of Things to Come". The airshow increased Geelong's economy by $15.6 million.[2]. It was held from 15-20 March 2005, which featured many planes from ultralights to large military aircraft, such as:
2007
The airshow is planned to be held between 20-25 March 2007. The theme is "Breaking the Barriers".
External links