Politechnika Warszawska PW-5
From PlaneSpottingWorld, for aviation fans everywhere
PW-5 Smyk

A PW-5 at Covilhã, Portugal.
Type designation
PW-5
Competition class
World Class
Number built
ca. 200
Crew
1
Length
6.22 m (20.4 ft)
Height
1.86 m (6.1 ft)
Cockpit width
0.63 m (2.1 ft)
Cockpit height
0.91 m (3 ft)
Wingspan
13.44 m (44.1 ft)
Wing area
10.16 m² (109.4 sq ft)
Aspect ratio
17.8
Wing profile
NN 18-17
Empty mass
190 kg (419 lb)
Maximum mass
300 kg (661 lb)
Wing loading
33 kg/m² (5.6 lb/sq ft)
Maximum speed
220 km/h (119 knots)
Speed in rough air
147 km/h (79 knots)
Stall speed
60 km/h (32 knots)
Minimum sink rate
0.65 m/s at 74 km/h
(130 ft/min at 40 knots)
Best glide ratio
32 at 80 km/h (44 knots)
Roll rate
5 s at 85 km/h (46 knots)
-45° to +45° bank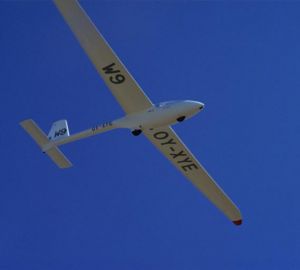 The Politechniki Warszawskiej (pl. Warsaw University of Technology) PW-5 "Smyk" ("little rascal") is a single seater sailplane of Polish manufacture. It is the monotype World Class glider.
History
The PW-5 was designed for, and won a competition held by the International Gliding Commission for a simple, low cost sailplane that would form the basis for a new competition class, the "World Class". Unlike other soaring competition classes, the World Class designation would guarantee that all pilots participated on an equal footing, and that pilots could not gain advantage by spending large amounts of money.
It was anticipated that thousands of PW-5s would be ordered, and that production would be licensed to different manufacturers, further reducing costs through an economy of scale to below 20,000 US dollars. For comparison, other competition classes often involve pilots spending upwards of 100,000 US dollars for state-of-the-art equipment.
The glider was designed at the Faculty of Power and Aeronautical Engineering of Warsaw University of Technology under supervision of Ph.D. Roman Świtkiewicz. It was originally built by PZL at its factory in Swidnik and first flew in 1993. The original members of the design team also set up a new factory at Bielsko in competition with PZL and have produced the PW-5 in small numbers.
Its wingspan is 13.4 metres. While the glider can climb well in thermals, its sink-rate at inter-thermal cruising speeds is poor compared to Standard Class gliders. It did not sell as well as expected and so the large economies of scale did not materialise. Older sailplanes with a better performance can be bought for less than the cost of a new PW-5. Though the PW-5 is still produced in small numbers, participation in World Class soaring events has declined recently. In total fewer than 200 PW-5's have been built, though over 70 have been exported to the United States, where there is a keen following.
The success of the PW-5 in the United States can be explained by the generally strong gliding weather that makes cross-country flights in low performance gliders feasible and rewarding, and by the popularity of the 1-26 monotype class to which the PW-5 is a natural successor.
Generally speaking, the PW-5 has found stronger acceptance in countries with good gliding weather. It has likewise made a positive contribution in poorer countries, or were gliding is still undeveloped. Schools and private owners there are often attracted by the simplicity and practicality of the type.
The countries with most registered PW-5 as of February 2004 were the USA (76), Argentina (33), Poland (27), New Zealand (25), Japan (18), Austria (14) and Canada (11). By contrast, some countries where gliding is well developed have only a handful of exemplars, to allow their national team members to enter competitions and pursue records in the class.
General characteristics
Design and construction
The structure is all glass-epoxy composite.
The wings are of trapeze contour with bow-shaped ends, shoulder-set on the fuselage, having a monospar structure with sandwich shells.
Schempp-Hirth-type air brakes extend on the upper wing surface only.
Fuselage shell of glass-epoxy composite monocoque structure, stiffened with frames.
Fabric covered rudder.
Fixed undercarriage consisting of main wheel behind the pilot, with shock absorber and drum brake, a smaller front wheel and a tail skid with a diminutive wheel to prevent scraping on the ground if overrotation takes place.
Two tow releases, for aerotowing and winch-launching respectively.
Flying, safety and operational qualities
Most people agree the PW-5 is very easy and fun to fly. Notwithstanding, control harmonisation is only fair: extremely light ailerons, light elevator, stiff rudder. The elevator is not mass balanced and gives disagreeable positive feedback in gusts. The roll rate is only average in spite of the lively feel to the ailerons.
Low speed handling is nice but not fool-proof. Spin entry may not be immediately obvious to low time pilots in high stress situations. This has been a factor in accidents.
Crashworthy cockpit as demonstrated by accidents in which the glider was destroyed without any harm to the occupant.
Good cockpit ergonomics, except the poor visibility to the rear.
Undercarriage arrangement, fuselage shape, high-set wings and cruciform tail reduce the risk of damage in outlandings.
Very easy ground handling, assembly and disassembly.
Versions
There are only two versions of the PW-5. The Bielsko version, identified as B1 PW-5, has a few safety and performance related improvements:
There is a project in progress for building a motoglider designated PW-5M based on the PW-5.
The PW-5 has a two-seater derivative, the PW-6.
Designation sequence
PW-ULS - PW-2 Gapa - PW-3 Bakcyl - PW-4 Pelikan - PW-5 Smyk - PW-5M - PW-6
Sources
Carswell D, The Low Time Pilot in the PW-5 World Class Sailplane, Soaring, April 1997
Thomas F, Fundamentals of Sailplane Design, College Park Press, 1999
Simons M, Segelflugzeuge 1965-2000, Eqip, 2004