Glasflügel 401
From PlaneSpottingWorld, for aviation fans everywhere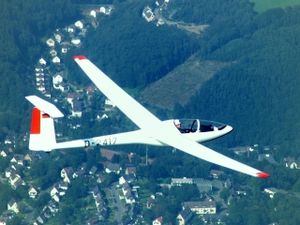 The Glasflügel 401 "Kestrel" is a glider, that has been developed 1968 for the open class.
The Kestrel can be seen as the prototype of the today 18 meter class. The ship was ahaed of its time and is even today very popular with a spacios Cockpit and a good consensus of performance and agility.
129 gliders were built between 1968 and 1975. The name is derived from its flying "brother"-bird Kestrel.
Over the years many competitions and records could be won with a Kestrel. Non-pilots in Europe may have heard of it in the 70ies through news, books or films about Jochen von Kalckreuth, who flew many records at that time in the Alps. Recently, in May 2005, Gordon Boettger flew about 2.050 km with his Kestrel in waves along the Sierra Nevada in the USA.
Technical data
Glasflügel 401 "Kestrel":
Characteristic
Data
Wingspan   
17,00 m
Wing area  
11,58 m²
Aspect ratio  
25
Airfoil  
FX 67-K-170/FX 67-K-150
Landing   
Schempp-Hirth-Brakes, Flaps 40 Degrees, Parachute
Length   
6,72 m
Gear  
retractable
Maximum speed   
250 km/h
Empty weight   
260 kp
Maximum weight   
400 kp
Glide ratio   
41,5 at 100 km/h
Designer   
Eugen Hänle
First flight   
9. August 1968
Sources
Flight Manual;
Die Entwicklung der Kunststoffsegelflugzeuge, Dietmar Geistmann, Motorbuchverlag, ISBN 3-87943-483-2