Edgley Optica
From PlaneSpottingWorld, for aviation fans everywhere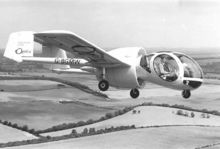 The Edgley EA7 Optica was a British light aircraft designed for observation work, intended as as a low-cost alternative to helicopters, retailing originally at around US$200,000.
The Optica, designed by John Edgley and built by Brooklands Aerospace, had an unusual configuration with a fully-glazed forward cabin seating three across, reminiscent of an Alouette helicopter. Behind it was situated a Lycoming flat-six engine powering a ducted fan, twin boom cantilever tailplane with twin rudders and a high-mounted single elevator. The fixed tricycle undercarriage had the nosewheel offset to port. The wings were unswept and untapered, and the aircraft was of a fairly standard all-metal construction with stressed aluminium skin. The aircraft's distinctive appearance led to it being known as the "bug-eye" in some popular reports.
It first flew on 14 December, 1979 and 25 were built before a fire destroyed the factory. An example featured in the 1989 movie Slipstream.
The first 19 of the production run have been grounded by the FAA due to cracks developed in the wing spars.
A crash of police Optica G-KATY on 15 May 1985 killed two members of the Hampshire Constabulary. The cause was suspected to be a stall : insufficient airspeed during a turn causing instability. The reason for the low speed was never established.
Performance:
Max Speed: 132 mph / 114 kt / 212 km/h
Cruising speed: 118 mph / 103 kt @ 70% throttle; 98 mph / 86 kt @ 50%
Engine power: 260 hp / 193 kW
Take off roll: 1082 ft, over 50 ft 1584 ft
Landing distance: over 50 ft 1820 ft, roll 912 ft
Specifications
Wingspan: 39 ft 4 in
Length: 26 ft 9 in
Height: 6 ft 6 in
Wing Area: 170 sq ft
Unladen weight 2,090 lb
Max takeoff weight: 2,900 lb
Service Ceiling: 14,000 ft
Range: 656 miles / 570 nautical miles
Fuel capacity: 66 Gal.
Useful load: 810 lb
Photos (G-BMPL) (G-BGMW) (G-BOPN)