Diamond Star DA40
From PlaneSpottingWorld, for aviation fans everywhere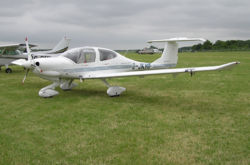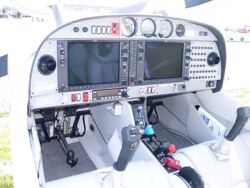 The Diamond Star DA40 is a four-place single-engine composite airplane notable as a popular modern training and private aircraft. It is made by Diamond Aircraft Industries.
The DA40 is available in three main versions:
The DA40-XL has a constant-speed propeller and is powered by a 180hp Lycoming IO-360-M1A fuel injected engine. It has a maximum cruise speed of 158 kts, burning 9.2 gallons of Avgas per hour. It's maximum take off weight is 2,545 lbs (1,150 kg). [1]
The DA40-FP has a fixed-pitch propeller, a 180hp Lycoming O-360-A4D engine (which has carburettors rather than fuel injectors), and a more basic interior but is otherwise similar to the XL.
In early 2006 the XL and FP models replaced the DA40-180. The FP replaced the fixed-pitch propeller version of the 180 and the XL replaced the constant-speed propeller version. The major difference between the new models and the 180 is the new models' vertical wingtips and higher maximum cruise speeds. The 180 with constant-speed propeller has with a maximum cruise speed of 147 kts, some 11 kts slower that the XL.
The DA40-TDI became available in North America only in 2006, much later than it did in Europe. The diesel engined TDI has outsold the avgas engined 180 (and XL and FP) in Europe by some margin. The DA40-180 is prevalent at flight schools and in private hands in North America.
While past DA40 models were available with both traditional mechanical instrumentation, as well as with the optional Garmin G1000 glass cockpit suite the current DA40 offerings come with the Garmin G1000 as standard equipment.
A joint venture has been set up in China with Shandon Bin Ao Aircraft Industries for production of the DA40 in Shandong Province. Capacity is available for up to 1,000 aircraft a month to be produced with certification by the European Aviation Safety Agency planned for the second quarter of 2006[1].
References