Burgess H
From PlaneSpottingWorld, for aviation fans everywhere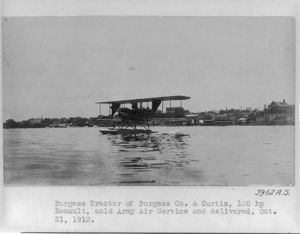 The Burgess H was an early airplane and possibly the first air machine specifically designed and built for military use. Classified as the "Model H military tractor", it was developed and built in 1912 by Burgess Company and Curtis, which in the following year became The Burgess Company.
Powered by a 70 hp Renault engine with the propeller in the tractor configuration, the biplane trainer had tandem open cockpits after a redesign in 1914 by Grover Loening, then a civilian engineer with the U.S. Army. Loening was the first person to receive an advanced engineering degree in aeronautics, from Columbia University in 1910, and later was a founding member of both Sturtevant Aircraft Company and Loening Aircraft Engineering.
The Aeronautical Division, U.S. Signal Corps purchased five Burgess H airplanes for the 1st Aero Squadron at North Field, California. They were the 24th through 28th aircraft acquired by the Army. A sixth Model H went to the U.S. Navy, where it was known first as the D-1 (Burgess Flying Boat, Model 1) and later as the AB-7 (Heavier-than-air/flying boat, model 7).
Reference
Burgess Company airplanes, Aerofiles