Boeing C-75
From PlaneSpottingWorld, for aviation fans everywhere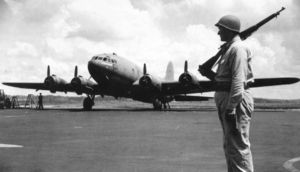 At the time the US entered WW2 in December, 1941, flying across the oceans was a rare luxury. But the war required government and military officials to travel across the oceans, and most of the four-engined commercial long-range aircraft were put to this use: Pan Am's 14 flying boats and TWA's 5 Boeing 307 landplanes. Additional fuel tanks were added to the 307's to give them the extra range required. The converted 307's were designated C-75 by the military.
Background
Before WW2 ended their production, ten Boeing 307 commercial transports, named Stratoliners, had been built. TWA bought five and flew domestic routes between New York and Los Angeles for 18 months until the Army purchased them following the Japanese attack on Pearl Harbor. The intended wartime use was long-range transatlantic flight with a payload of VIPs or critical cargo. TWA converted their five Stratoliners for military service in the spring of 1942, and its Intercontinental Division (ICD) then operated these C-75's under contract to the Army's Air Transport Command (ATC) until July, 1944.[1] These were the only commercial landplanes able to cross the Atlantic with a payload until the arrival of the C-54 Skymaster in November, 1942.
Conversion
The Boeing 307 was based on the B-17C with a different fuselage of circular cross section 138 inches in diameter (Betts 1993:167). Conversion to C-75 included removal of the pressurization equipment to save weight, removal of the forward (four or) five of nine reclining seats along the port side, and alteration of the two forward Pullman-like compartments (of four) starboard of the left-of-centerline aisle. Space was thus provided for crew requirements on extremely long flights and for the addition of five 212.5 gallon fuel tanks. The landing gear was strengthened, the Maximum Take-Off Weight was increased from 45,000lb to 56,000lb, and the exterior was painted olive drab (Betts 1993:172).
Transatlantic routes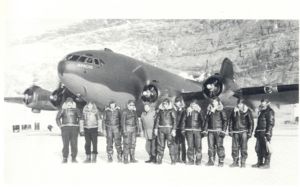 Two main routes were flown: Wash DC to Cairo across the South Atlantic, and New York to Scotland across the North Atlantic.[2] They often flew non-stop the 2,125 miles between Gander, Newfoundland and Prestwick, Scotland in the north, and the 2,550 miles between Natal, Brazil and Accra, Ghana in the south. These were very long flights for the time. After July, 1942, a refueling stop at Ascension Island was an option in the south (Berry 1995:147). In the north, stops at Iceland or Greenland were often necessary, especially flying westbound against the prevailing winds. As C-54's took over the Gander to Prestwick route, the C-75's operated a Marrakech to Prestwick service out over the Atlantic (Berry 1995:147).
Noteworthy flights
On February 26, 1942, Otis Bryan, head of the ICD, piloted Navajo to survey the route from Wash DC to Cairo across the South Atlantic, and to deliver armor-piercing shells for British artillery in use against the Afrika Korps.[3] In March, 1942, Bryan was asked by General Arnold to pilot the top brass, including Generals Marshall, Eisenhower, Clark, Col. Vandenberg, Admiral Towers, Averill Harriman and Harry Hopkins, across the North Atlantic to England (Betts: 1993:174). In May a similar all-brass flight was made by Apache, displaying remarkable confidence in the C-75 (Betts 1993:175). In June, 1942, Comanche made 20 crossings shuttling across the South Atlantic between Natal and West Africa spending 384 hours in the air and carrying a total of 229 passengers and 53,000lb of cargo.[4] Jimmy Doolittle and others from his raid returned to the US in a C-75. TWA and the C-75 were making transatlantic crossing by landplane routine. "Before the C-75's were returned to their private owners, they completed some 3,000 ocean crossings and logged more than 45,000 hours in flying to every corner of the world."[5]
After the war
In April, 1945 the five aircraft were returned to TWA, having been restored by Boeing and recertified by the CAA as SA-307B-1 civilian transports with their old registration numbers. The restoration included new B-17 Flying FortressG wings and engines, horizontal stabilizer moved three feet aft, and B-29-type electronics. TWA then restyled the interior cabin in two sections, 10 seats forward and 28 aft (Betts 1993:179).
Survivors
Flying Cloud, the only surviving Stratoliner and one of three Model S-307's operated by Pan American Airways, is on display at the Smithsonian's Steven F. Udvar-Hazy Center. During the war, "Pan Am's three Stratoliners remained their property and arrangements were made for the airline to fly their Latin American routes under the ATC's direction" (Betts 1993:172).
C-75 Transports by name and number
| TWA Name | Boeing Construction Number | USAAF Serial Number | Civil Registration Number |
| --- | --- | --- | --- |
| Cherokee | 1998 | 42-88623 | NC 19906 |
| Comanche | 1996 | 42-88624 | NC 19905 |
| Zuni | 1999 | 42-88625 | NC 19907 |
| Apache | 2000 | 42-88626 | NC 19908 |
| Navajo | 2001 | 42-88627 | NC 19909 |
Specifications (C-75)
General characteristics
Crew: 8-10: Pilots (2), 1st Officer (1), 2nd Officer (1 sometimes), Navigators (2), Flight Radio Officers (2), Flight Engineer (1), Purser (1 if passengers)
Capacity: 12 passengers long range, 16 passengers short range
Length: 74 ft. 4 in. ()
Wingspan: 107 ft. 3 in. ()
Height: 20 ft. 9 in. ()
Wing area: 1,486 sq. ft. ()
Empty weight: approx. 30,300 lb ()
Max takeoff weight: 56,000 lb ()
Powerplant: 4× Wright GR-1820-G105A Cyclone radials, 1,100 hp () each

Fuel Capacity: 2760 Gals (1700 in wing tanks plus 1060 in fuselage tanks)
Performance

Normal Cruising Altitude: 1,000 - 9,000 ft.
Long-Range Cruise Speed: 140 mph IAS[6]
Notes
References
Berry, Peter, "Transatlantic Flight 1938-1945 (Part II 1943-1945)", AAHS Journal Vol 40, Number 3, Fall 1995.
Betts, Ed, "The Boeing 'Stratoliner' (1935 through 1940)" Part 1 of 2, TARPA TOPICS, August 1990. (TWA Active Retired Pilots Association magazine).
Betts, Ed, "The Boeing 'Stratoliner' (1935 through 1940)" Part 2 of 2, TARPA TOPICS, August, 1994.
Betts, Ed, "The Intercontinental Division" (Part 1 of 3), TARPA TOPICS.
Betts, Ed, "The ICD Story Part Two: The Year 1943" (Part 2 of 3), TARPA TOPICS, February, 1994.
Betts, Ed, "The Intercontinental Division (ICD) 1944-1946 Part III", (Part 3 of 3), TARPA TOPICS.
Davies, R. E. G., Airlines of the United States Since 1914 (Wash D.C.:Smithsonian Institution Press, 1998).ISBN 1-888962-08-9.
"Boeing 307 Stratoliner: The World's First High-Altitude Airliner", Boeing Historical Archives, 1989.